Lincoln, IL
posted daily aT NOON (CDT)
Night sights at the Logan County Fair
---
LOGAN COUNTY FAIR 2000 EVENTS & STORIES

A goat ate Kara's cup

Favorite, funniest fair events


[AUG. 4, 2000]

T

his year's Logan County Fair has proved to be an intriguing attraction for visitors and vendors alike. From food to rides and other attractions, the fair has it all.
---
---
LOGAN COUNTY FAIR 2000 EVENTS & STORIES
Chatting with fans
At the racetrack
[AUG. 4, 2000] A small but an enthusiastic crowd cheered on the horses as they roared down the backstretch of the Logan County Fairgrounds racetrack. That was the scene early Thursday afternoon as the harness races took center stage at this year's county fair. Harness racing has long been a staple of the fair lineup and continues to be enjoyable for veteran race fans as well as newcomers.
---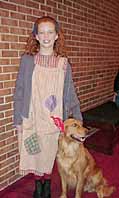 "Annie"
performances begin
[AUG. 4, 2000] Lincoln Community Theatre's final summer production, "Annie," is now playing in the Johnston Center at Lincoln College. The show, which runs Aug. 4 through Aug. 12, features 34 orphans and 32 other performers in a large, young cast.
---
---
LOGAN COUNTY FAIR 2000 RESULTS
Results of fair shows listed
[AUG. 4, 2000] Judging in various classes continues at the Logan County Fairgrounds. Click below for the newest listings of competition results.
---
Gleason named Bartmann's Employee of the Month
[AUG. 4, 2000] Sharon Gleason is an activity assistant at Bartmann Health Care Center and has been an employee for 1˝ years. The team marketing committee selected her for Employee of the Month of July based on her work ethic, attitude, and her patience and rapport with all the residents.
---
Cancer survivor Billy Barton writes in support of
St. Jude telethon on Saturday
---