NEWS
Today's Top Stories
Sports Talk
PEOPLE
COMMUNITY
ENTERTAINMENT
FEATURES
The Arts
REVIEWS
EDITORIAL
COMMENTARY
ADVERTISEMENT
LDN is best viewed with
Internet Explorer 5.0.
Lincoln, IL
posted daily aT NOON (CDT)
New mayor of
Elkhart announced

[AUG. 5, 2000] Helen Dayle Eldredge has been named the new mayor of Elkhart, filling the unexpired term of former mayor Terry Moore. She was chosen to fill the post by village trustees on July 26.

The vacancy occurred because of Moore's recent conviction of aggravated battery, stemming from an incident December 11, 1999, between Moore, his son Tyler, and Joe Bayless of Elkhart. Illinois law mandates that a municipal official convicted of a felony cannot continue to hold elected office.
---
---
---
Victory 2000 Train to stop in Lincoln
Downtown Lincoln is the place to be on Sunday afternoon as Republican
Presidential Candidate George W. Bush and Vice-Presidential Candidate Dick
Cheney stop for a brief campaign rally around 3:30 p.m. The 20-car "Victory
2000" train is scheduled to make a handful of stops in Illinois, including
formal rallies in Joliet, Normal and Springfield. Local Republican officials
are expecting a large crowd in Lincoln and security will be very tight.
Rally attendees are encouraged to park several blocks away and walk to the
Depot. State Sen. Robert Madigan also encourages rallygoers to prepare
their own signs in support of the Bush-Cheney ticket.
---
LOGAN COUNTY FAIR 2000 EVENTS & STORIES
[AUG. 5, 2000] Auto racing enthusiasts will be treated to an action-packed night of fun at the Logan County Fair as quarter midgets take to the track at 6:00 p.m. tonight.

Quarter midget racing made its first appearance in 1996 at the Logan County Fair, just as a preview.

Big time race fan Laszlo Pozsgai got his son Max involved five years ago.

Max, 11 will race at this years fair.

The cars used in these races can reach a maximum speed of 40 mph, and will take approximately 12 laps to complete the race. According to Pozsgai, "Safety is the first issue in these races. The cars are equipped with roll bars, arm restraints and the children must wear a helmet." Pozsgai also stated "The kids are pretty much safe, usually the dads are the one put in danger." In order to get the cars started the dads must "pick up the back of the car, take a couple of steps and off they go" said Pozsgai. To ensure the children's safety, they must first go through 3-4 training sessions. The kids must understand the rules, flags, and many other things before they can venture out onto the track. "If the teachers don't feel like the children are ready to race, they will hold them back until all the rules and regulations are learned." Pozsgai hopes that "Quarter midget racing will bring more fans out to the fair." In hopes of accomplishing this goal, tonight after the races the fans will be invited out to admire the cars and ask any questions they may have. "Hopefully we will be able to recruit more competitors this way." All ages are welcome to get a closer look at the cars, but unfortunately for adults, racing is limited to children age 5-16.
---
LOGAN COUNTY FAIR 2000 EVENTS & STORIES

Quarter Midgets a Premier Event for Logan County Fair
Racing is a true family event for one Broadwell family
[AUG. 5, 2000] The Logan County Fairgrounds will be turned upside down tonight as the Quarter Midget racing contest invades the grandstand. Quarter midget enthusiasts are thrilled that fairgoers will now be exposed to their little known sport – a kids version of the NASCAR circuit.
---
---
LOGAN COUNTY FAIR 2000 RESULTS
Results of harness racing announced
[AUG. 5, 2000] Results of harness racing at the Logan County Fairgrounds track on Thursday, Aug. 3, and Friday, Aug. 4, have been announced. Click below for placings.
---
MILESTONES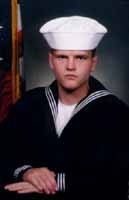 Golden completes
basic training in the Navy
[AUG. 5, 2000] James Andrew Golden graduated from Navy Basic Training July 14. He will continue his training at Great Lakes Naval Training Center. He is the son of James and Jennie Golden of Lincoln and the grandson of Peggy Golden of Lincoln.
---
Court reports
[AUG. 5, 2000] Today the Law and Courts page includes a new set of weekly court reports, marriage licenses and dissolutions. The page also includes reports from the Lincoln City Police Department and the Logan County Sheriff's Department. All citizens listed in the police reports are innocent until proven guilty by a court of law. The Lincoln Daily News does not list the names or exact addresses of the individuals unless convicted and over the age of 21.
---
"Garage Sale Central"
[AUG. 5, 2000] A free online listing of garage sales is available at Lincolndailynews.com. To place an ad, call 217-732-7443 or e-mail your garage sale ad to LDN.
---