NEWS
Today's Top Stories
Sports Talk
PEOPLE
COMMUNITY
ENTERTAINMENT
FEATURES
The Arts
REVIEWS
EDITORIAL
COMMENTARY
ADVERTISEMENT
LDN is best viewed with
Internet Explorer 5.0.
Lincoln, IL
posted daily aT NOON (CDT)
Logan County Night Out
To celebrate safety and fun in Lincoln neighborhoods
[AUG. 8, 2000] It's a simple principle. Lights discourage crime and encourage neighborhood interaction. If you support safe neighborhoods without incidence of drugs, violence or property destruction, then turn on your porch light tonight for Logan County's celebration of National Night Out.
---
---
LOGAN COUNTY FAIR 2000 RESULTS
Winners at the Logan County Fair
[AUG. 8, 2000] Results of judging in various classes of competition at the Logan County Fair are available. Click below for lists added most recently.
---
[AUG. 8, 2000] Whether it's a backpack, desk supplies, outfits for school, a dress for a wedding or a car from the dealer's lot, it's fun to get new things. The August transition from summer activities to an upcoming school year gives many of us an extra reason to acquire the latest styles.
---
Recipes from the Cake Classic
[Click here for recipes used at the Logan County Fair Cake Classic.]
---
Animals for adoption
There is an abundance of farm cats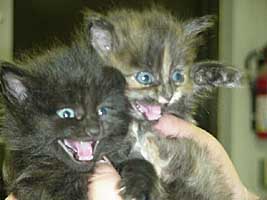 available FREE to farmers.
[Click here for pictures of animals available for adoption.]
---