NEWS
PEOPLE
COMMUNITY
ENTERTAINMENT
FEATURES
The Arts
REVIEWS
EDITORIAL
COMMENTARY
ADVERTISEMENT
LDN is best viewed with
Internet Explorer 5.0.
Lincoln, IL
posted daily aT NOON (CDT)
TOP STORIES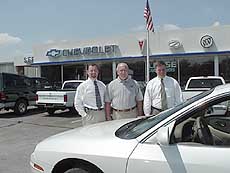 Graue Inc. wins state retail award
[AUG. 11, 2000] Graue Inc., Lincoln auto dealer for Chevrolet, Buick, Oldsmobile, Pontiac and Cadillac, has been named one of the "Retailers of the Century" by the Illinois Retail Merchants Association (IRMA). Owners Robert E. Graue, Christopher J. Graue and Mark E. Graue will receive the award on Sept. 26 in Chicago.
---
Homeless issues
in Logan County
Teens experience
others' plight
[AUG. 11, 2000] Members of San Jose Christian Church experienced what it might be like to be homeless. Twenty members of the church's youth ministry were forced to depend on the generosity of neighbors and their own ingenuity to find food and shelter during a homeless simulation last Friday evening.
---
TOP STORIES
Board hears plans for electricity generators
near New Holland
[AUG. 11, 2000] The Logan County Board, in a working session Thursday night, heard preliminary plans for the construction of three small electrical generating units proposed for the east side of New Holland.
---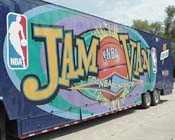 NBA Jam Van makes local stop
[AUG. 11, 2000] The NBA Jam Van rolled into town Aug. 9 and set up Camp NBA at Lincoln Christian College. The Jam Van is a mobile version of the NBA Jam Sessions, an annual event which draws thousands of NBA enthusiasts. The Jam Van is a 67-foot-long, 18-wheel truck designed to unfold into a rather impressive display. Several basketball hoops swing out from the sides, and the inside of the truck acts as a small NBA museum.
---
Lawyer Paul Meints receives appointments, award
[AUG. 11, 2000] Herbert Franks, president of the Illinois State Bar Association, has appointed Paul A. Meints of Atlanta and Bloomington to the Trusts and Estates Section Council and to the Agricultural Law Section Council. He is the chair of the Agricultural Law Section for 2000-2001 and has served continuously in various capacities since the section was first formed in 1983.
---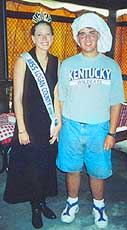 Christopher Vaughan, age 14, took first place

in the Chilli Cook-off

at the Logan County Fair on

Saturday,

Aug. 5. This is his first cook-off. There were seven entries in the contest.

Above are the fans for Christopher.
To the

left

are Christopher and Miss Logan County Fair Queen Elizabeth Stoll.
---
Brad Manus receives law degree
[AUG. 11, 2000] Texas Wesleyan University School of Law has announced that Brad Manus of Grand Prairie, Texas, was awarded a Juris Doctor degree on Friday, May 12.
---