We accomplished our task. But, it wasn't easy. As our grandparents used to say, "Sometimes when it rains, it pours." Recently, the Redbirds have embodied every Murphy's Law known to man. They have jumped out of the frying pan and into the fire. Surely the planets are just temporarily out of alignment. The baseball gods must be away from Sports Center, Baseball Tonight, Fox Sports and the CNNSI sports desk. They don't realize how perilous the situation has become.
I have heard some baseball managers talk about how hard it is to be successful with a 24-man roster. With as many injuries as the Cards have endured, Tony LaRussa has seemingly been playing with a 14-man roster (I hope he's a golfer…he'd at least be adept in utilizing his 14 clubs).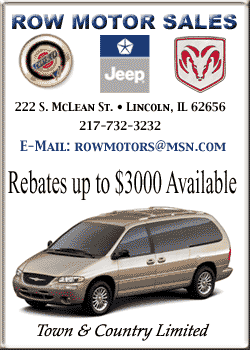 The last few weeks I've been waiting for their fortunes to turn, to no avail. I've been waiting for the law of averages to kick in (although I'm confident that Murphy was totally ignorant of that law).
The only thing keeping the Birds from a total train wreck was the shrewd wheeling and dealing of general manager Walt Jocketty prior to the trading deadline Pitcher Mike Timlin has been solid, and what can you say about the ageless wonder, Will "The Thrill" Clark (he reminds me of my all-time favorite Cardinal, Jack "The Ripper" Clark)?!
Even with those outstanding acquisitions in hand, our feathered friends were still mired in a funk. I had to do something about it. If you saw your friend going down in quicksand, wouldn't you try anything to save him or her? I took matters into my own hands.
Mr. Jocketty has done a tremendous job, and on behalf of all Bird backers everywhere I applaud his efforts. But my time was at hand. No longer could I wait for another deal. The farm system could not come to our rescue at this late date. I had to come up with a plan.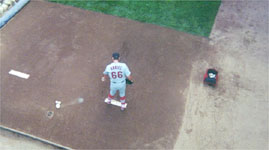 [From his perch in the right field bleachers, the LDN sports editor gives St. Louis Cardinal rookie, Rick Ankiel the game plan on how to beat the Brewers.]
The Cards needed a good omen…they've had enough bad ones this season alone to last for a decade. I somehow needed to invoke the baseball spirits.
I went to the only place I could think of…and since I was already in the area …I entered baseball's Mecca, The Field of Dreams (most of that experience I'll share with you in an upcoming unrelated story, so stay tuned…you never know what the LDN is going to hit you with next).
Almost immediately I could feel that things were going to change. As I walked into the corn where Shoeless Joe and the other players have been known to dwell, I could sense that they were feeling my pain and the pain of Cardinal fans across the world. At the very least, I felt like I was doing my part. No matter what happens from here, I was doing everything in my power to help right the ship. The next step would be transferring all of this good karma to our beloved Cards.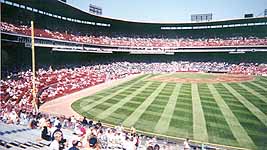 [From our perch in the right field bleachers Milwaukee's County Stadium always looks picturesque. The Bob Vecker Day celebration is going on in the background.]
Almost by fate we chose to go to Saturday's game (actually my wife didn't want to go to Friday night's game, but don't bother me, I'm on a roll here). Just getting to the ballpark turned out to be quite a quest. Whenever the Redbirds come to town, the crowds come out of the woodwork. What should've taken 15 minutes took an hour.
But after a long walk, we took our seats right next to Cardinal rookie Rick Ankiel, who was warming up for his start in the bullpen. Using the secret techniques (and they will have to remain a secret or I'll have to kill you) that Chief Illiniwek taught me when I was a grad student at the U of I, I transferred all the good vibes I had picked up at the Field of Dreams to the young Redbird southpaw. I even had enough to douse all the Cards in the bullpen area, and believe you me, they all needed it.
As it turned out, it's a good thing I was there. Ricky pitched a whale of a game. Although he is not much of a conversationalist (he didn't say one word to me while I was giving him a pre-game pep talk), he listened politely as I pointed out to him that he was the man. That the buck was going to stop with him. That he was going to draw a line in the clay. And he was brilliant. I think he only gave up three hits.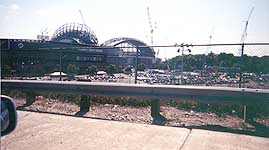 [Construction on the Milwaukee Brewer's new stadium, Miller Park continues on schedule. The old park, County Stadium is in the foreground.]

I was also glad that I threw a little dust on new Cardinal catcher Carlos Hernandez. He got a big hit when we were leaving runners stranded virtually every inning.
I was pleased that I covered Timlin and Veres with the stuff too. They seemed to be overpowering. Timlin even made one of the greatest pickoff moves I have ever seen. And it's a good thing that he did, because what happened next epitomized the wacky dimension the Cards have been trapped in.
The great pickoff was the second out of the inning. The next batter lifted a high pop-up between right field and the second baseman. Vina and Drew were sprinting towards the ball and couldn't hear each other calling for it. They collided and the Brewers ended up with a runner in scoring position down at second base.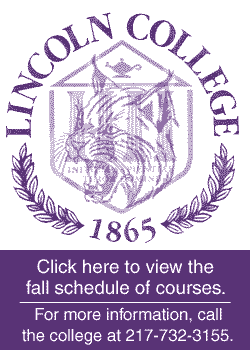 Timlin's pickoff was even huger now. That would have scored what probably would have been the winning run. But you and I know what really happened. And we know why it happened.
The good stuff was still flowing when I went to press as the Redbirds won the series on Sunday.
It's time for someone else to step up and help the cause…I'm exhausted!