NEWS
PEOPLE
COMMUNITY
ENTERTAINMENT
Crosswords - UPDATED!
FEATURES
The Arts
REVIEWS
EDITORIAL
COMMENTARY
ADVERTISEMENT
Classified Ads
Quick Coupon Clip-Outs


Register your name among the many others with the LDN User Registration!
LDN is best viewed with
Internet Explorer 5.0.
Lincoln, IL
posted daily aT NOON (CDT)
TOP STORIES

Labor of love yields a bountiful harvest
for New Holland teen
Zac Tibbs is champion gardener and more
[AUG. 24, 2000] It's rare to find a high school senior who takes an interest in flower and vegetable gardening. It's even more unique to see a young man who has worked side by side with his grandparents to establish a business centered around gardening. Yet for Zac Tibbs of New Holland, producing flowers, fruits and vegetables is a labor of love.
---
STATE FAIR: LOGAN COUNTY 4-H HIGHLIGHTS
Artwork selected for National 4-H Center display
[AUG. 24, 2000] Special recognition goes to Robin Conklen of New Holland, whose artwork was chosen by Illinois State Fair judges to be displayed in the National 4-H Center in Washington, D.C. Only 15 Illinois 4-H artisans received this honor this year.
(Click here for a listing of Logan County Junior Livestock winners at the state fair.)
---
TOP STORIES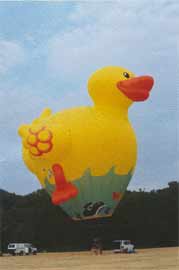 Rubber Ducky to float in Lincoln skies
[AUG. 24, 2000] Rubber Ducky will float in the skies—not the bathtub—during the upcoming Lincoln Art & Balloon Festival. The event, sponsored by the Lincoln/Logan County Chamber of Commerce, will be Aug. 25-27.
---
---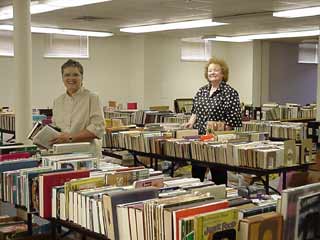 Today this room is packed with books. Tomorrow this room will be packed
with people. Book sale co-chairman Ann LaForge and volunteer Ruby Sutton
work diligently in preparation for this weekends annual book sale.
Library Director Richard Sumerall says more volunteers are still welcome for
this weekends sale. Call him at 732-8878.
---
SPORTS TALK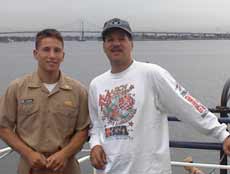 Part 1
Carnahan still on the point
at Merchant Marine Academy
[AUG. 24, 2000] I've been watching Lincoln Railer sports since 1975. Obviously, a lot of good athletes, both young men and young women, have gone through the programs here. I'm not sure that I have seen a more gritty and determined player than Preston Carnahan. He is one of the best point guards that I have seen in a Railer uniform. Not because his stats say so, but because he willed the Railers to victory. Last week, former Lincoln resident Gary Klockenga and I spent two days with Preston, who is now a sophomore midshipman cadet at the Merchant Marine Academy in King's Point, N.Y.
---
Take time to stop in Salisbury
Part 2: Colin Folk Art Gallery
[AUG. 24, 2000] After having lunch in Salisbury at the Morning Star Mercantile and Café, you can walk next door to the Colin Folk Art Gallery, where the conversation with owners George and Winnie is as delightful and colorful as the chalk paintings they sell.
---
Bartmann residents cruise the Caribbean
[AUG. 24, 2000] Residents of Bartmann Health Care Center took an imaginary cruise to the Caribbean Islands one week in August.
---