NEWS

PEOPLE
COMMUNITY
ENTERTAINMENT
Crosswords - UPDATED!
FEATURES
The Arts
REVIEWS
EDITORIAL
COMMENTARY
ADVERTISEMENT
Classified Ads
Quick Coupon Clip-Outs


Register your name among the many others with the LDN User Registration!
LDN is best viewed with
Internet Explorer 5.0.
Lincoln, IL
posted daily aT NOON (CDT)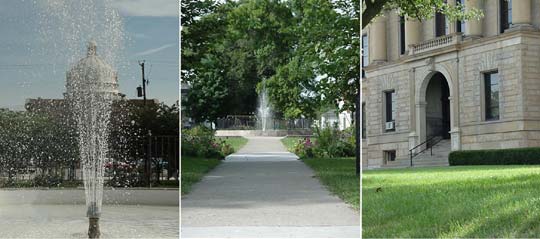 Baby talk
Benefits of signing with your baby
[AUG. 29, 2000] Teaching sign language to hearing babies as young as 7 months is a growing trend among new parents. Babies and parents can enjoy the excitement and extraordinary benefits of two-way communication long before the baby can speak. To teach your child to sign is to teach him a second language. As with all skills, time, patience, practice and encouragement are required for success.
---
ORGANIZATIONS
New vice president of academics
inaugurated at LCC/S convocation
[AUG. 29, 2000] At the 57th annual convocation of Lincoln Christian College and Seminary convocation this morning, President Keith Ray pronounced Dr. Thomas M. Tanner the new vice president of academics. Dr. Tanner began serving in this position July 1.
---
Subject to change
[AUG. 29, 2000] Weather conditions during the festival weekend in Lincoln didn't satisfy everyone all the time, but it's not the first occasion when plans were subject to change. In everyday life, announcements of schedules and prices sometimes mention specifically that they're subject to change without notice. We usually notice changes in weather without being notified, and current technology adds considerable information about weather changes that are likely to come our way. Where I grew up there was a saying to the effect that if you didn't like the weather, you should just wait 15 or 20 minutes and it would change.
---
Looking for Lincoln meeting scheduled
[AUG. 29, 2000] Looking for Lincoln in Lincoln will have a planning committee meeting on Wednesday, Aug. 30, at 7 p.m. at Union Planters Bank, 303 S. Kickapoo. Help shape your community; come to an LFL meeting — planning today for Lincoln's future.
---
Clarks' flying feet win balloon fest 5K event
Runners beat the storm
[AUG 29, 2000] Runners completed the Lincoln Park District's annual 5K run, The Sky's the Limit, on Saturday morning before the sky poured down rain. Stan and Laura Clark were the first male and female finishers.
---
---
Animals for adoption
---
Lincoln College seeks members for
community jazz group
[AUG. 29, 2000] Area musicians who enjoy the sounds of jazz and big band music are asked to attend a meeting on Monday, Sept. 11, at 6 p.m. at Lincoln College. The purpose of this meeting is to see if there is any interest in forming a community jazz ensemble.
---
Thanks for coverage of book sale
---