The Clarks bring the Skyrunner balloon to Lincoln annually for the festival, and, on the ground, Stan Clark has crossed the finish line first in the 5K event several years running.
The 3.1-mile course followed Primm Road from the Lincoln Park District entrance to Wyatt Avenue, then turned left onto Home Avenue and continued south to a turnaround point between cornfields, returning along the same route.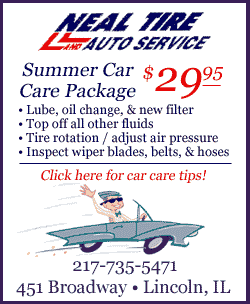 Poolside refreshments afterward were moved inside as the sky grew darker, and thunderclaps preceded the clapping for the winners.
Medals were presented for first, second and third place in various age categories, with 11 brackets available for males and nine for females. The top male and female finishers overall were awarded trophies. When the Clarks, husband and wife, received their awards, a playful tipping of trophies suggested an exchange of kisses between the figures on top.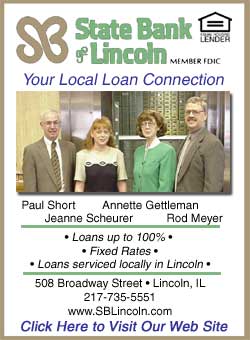 At registration, participants had received long-sleeved commemorative T-shirts with logos representing the Art and Balloon Festival and the race sponsors: R&H Farm Supply, Row Motor Sales, Fifth Street Food Mart, M & M Vending Co., CEFCU, Lincoln Park District, Lincoln IGA and Pepsi Cola.
A listing available after the event showed 47 runners ranging in age from 10 to 65. According to that sheet of results, the order of finish and times for each runner were as follows:
Stan Clark, 17:11:23
Bob Flather, 19:28:76
Laura Clark, 20:14:43
Bob DeHart, 20:27:23
Bill Frantz, 20:42:44
Chris Kidd, 20:49:87
Alejandro Valdés, 20:53:94
Phil Miller, 20:57:82
Rick Meadows, 21:55:32
Todd Krueger, 22:07:52
Brad Cox, 22:09:16
Phil Lovell, 22:15:90
Donald Johnson, 22:52:46
Steve Reavis, 22:24:34
Linda Bristow, 23:40:46
Lanny Lobdell, 23:54:14
Rod Lewis, 23:55:44
Roy Bullinger, 22:58:49
Ben Herrington-Gilmore, 24:20:29
Charley Bernardes, 24:34:61
Marilyn Bell, 24:49:06
Sally Wells, 24:49:40
James Robinson, 25:07:76
Kelly Pleasant, 25:18:51
Mark Tippett, 25:22:02
Don Shull, 25:23:62
Chris Zimonicka, 25:25:55
Candy Krueger, 25:26:73
Steve Barmes, 25:51:37
Leta Herrington, 27:15:98
Art Callesen, 27:44:16
Mary Krallmann, 27:48:80
Don McFall, 28:40:28
Kate Ruggless, 28:42:26
Sara Kleinschmidt, 29:03:
Jon Diers, 29:15:27
Caroline Steirer, 29:34:09
Bud Steirer, 29:34:84
Annette Lobdell, 29:42:71
Will McFall, 29:53:20
Mike Ruggless, 30:18:40
Brian Dunham, 30:52:36
Scott Dunham, 31:06:71
Donald Dunham, 31:07:55
Linda Bristow, 33:28:77
Kelly McCraith, 34:41:78
Dawn Lanning, 34:41:78
[LDN]