posted daily OVER THE NOON HOUR (CDT)
| | |
| --- | --- |
| | [Zion Lutheran Church held their annual live nativity at Zion Lutheran School this weekend. Mary and Joseph were portrayed by Sue and Dave Howard of Lincoln] |
---
Click here for news from other
sources regarding the presidential election
---
Mayoral 'State of the City' address
[DEC. 4, 2000] During my first term as mayor, I have had the opportunity to work alongside many wonderful people who have devoted both their time and energy to making Lincoln a better place to work, live and raise a family—in a place we can be proud to call home. Serving as your mayor has been a privilege. I have enjoyed every day and am glad to have been a part of the many accomplishments we have achieved.
Festival of Trees Gala
[DEC. 4, 2000] The Knights of Columbus Hall in Lincoln was transformed into a Christmas fantasyland with lights and poinsettias Friday evening as Main Street Lincoln and the Abraham Lincoln Healthcare Foundation pulled off yet another successful Festival of Trees Gala.
---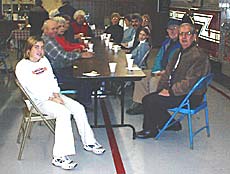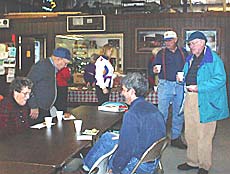 [Friends and family gathered around singing carols at the Atlanta Christmas tree lighting Sunday evening. Warm fellowship was shared following the event as the crowd moved to the Fire Station for hot chocolate and home made cookies.]
The next scheduled Atlanta holiday event will be Friday evening. Atlanta will gather at Hamlins Grocery at 8:15 p.m. for the $600 Big Bucks drawing. Twelve winning tickets will be drawn for twelve $50 Atlanta Bucks.
Friends of Historic Atlanta meet tonight at the Atlanta Public Library at 7 p.m. You are invited to bring something antique to be discussed and valued. Local antique expert, Harry Sherman will be on hand to perform an Antiques Roadshow.
---

LC women vs. Moraine Valley
Lincoln College wrestling
LCC men vs. Cincinnati Bible College
C-EL girls play Springfield team
---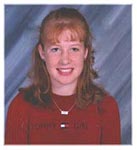 Amber Turner chosen
[DEC. 4, 2000] Amber Turner, daughter of Mike and Suzie Maxheimer of Chestnut and Scott and Julie Turner of Oreana, was named the eighth grade Student of the Month for December at Mount Pulaski Junior High School.
---
Jazz concert links
groups from LC, ISU
[DEC. 4, 2000] Lincoln College Music Department will present a jazz concert featuring the Lincoln College Jazz Band along with Illinois State University's Jazz Ensemble on Thursday, Dec. 7, at 8 p.m. in the Johnston Center for Performing Arts on the campus of Lincoln College.
---
---

---
A presentation of 'Coming to America' planned
[DEC. 4, 2000] Salt Creek Prairie Chapter National Society Daughters of the American Revolution will have a special holiday treat at their monthly meeting Wednesday, Dec. 13, at 1 p.m. in the town's Civic Center, located at 120 N. Main St.
Red Cross announces December classes
[DEC. 4, 2000] A challenge class will be Saturday, Dec. 16, at the Logan County Red Cross office, 125 S. Kickapoo St. in Lincoln. A community first aid and safety class will be Dec. 20 and 21 at the same location.
---
---
Hear it here!
The Faks Machine: Mike Fak and Jim Ash host a community call-in show. Their show airs on Lincoln Daily News over the MediaOne link every Wednesday night beginning at 7 p.m.
Sponsors: Mitchell-Newhouse, Gleason's Dairy Bar, J&S Auto
---


[click here for top stories for the day from around the world]
---
World/national news coverage
---