posted daily OVER THE NOON HOUR (CDT)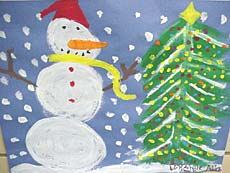 [Visions of snowmen from Miss Holland's fifth grade class at Washington-Monroe School foretell the frosty delights coming yet this winter.]
---
Click here for news from other
sources regarding the presidential election
---
Retroactive to May 1, 1999

City ratifies contract
with police union

[DEC. 5, 2000]

After more than a year and a half of negotiations and the services of a mediator, the city of Lincoln has ratified a contract with the Lincoln Police Department. About 25 members of the police union, FOP Lodge 208, attended the council meeting Monday evening to hear the eight City Council members who were present give their new contract a yes vote.

Good turnout for Lincoln picnic
---
A holiday contest for you!

As a participant in the Ho Ho Holiday Dough Contest, Lincolndailynews.com has lots of tickets to give away to its loyal readers. Starting today and running through next Thursday, LDN will provide five daily questions, pulled from current ads and yesterday's stories, for you to answer. Each correct answer earns one ticket. Just e-mail your responses back to Lincoln Daily News, and we will save your tickets for you to pick up late next week. A drawing for $5,000 cash and other prizes will be at 5 p.m. Sunday, Dec. 17, at the Logan County Courthouse. Good Luck!
1. Which downtown Lincoln merchant sells fuzzy slippers and tapestry cosmetic bags?
2. Name two brands of bicycles sold by Lincoln Cycle Center.
3. Who was the master of ceremonies at the recent Festival of Trees Gala?
4. Which downtown merchant is currently advertising in LDN a 10% off coupon for any non-sale item in their store?
5. Who is the December Student of the Month at Mount Pulaski Junior High School?
Click here to submit you answers
---
Backup time during the rush season
[DEC. 5, 2000] With community pre-Christmas activities going full speed ahead, my thoughts focused on backing up. It wasn't that I expected to go back in time, although I wouldn't mind having a couple of extra weeks to finish what I'd like to do between now and the end of the year. In the midst of the rush, my attention was diverted to things that aren't in a hurry, to things that simply stop working. For once I had enough backups that it didn't feel like a crisis.
---
Hear it here!
The Lady Railer basketball team takes on Jacksonville
tonight at 7:30 p.m.
Can't make it to the game? Tune in to Lincolndailynews.com
to hear it here, LIVE!
Sponsored by Mitchell-Newhouse, Gleason's Dairy Bar, J&S Auto
---
All parents welcome
District 27 schools and
parents create unique learning opportunities for students
Part 1
[DEC. 5, 2000] There once was a time when principals and teachers had to call parents in to the school to discuss a child's disciplinary or academic shortfall. But these days, parents of Lincoln District 27 elementary students frequently visit their child's school to help teachers and administrators enhance the educational process.
---

LCHS swimming
LC swimming
LC women's basketball
---

Schmidt-Marcotte of Atlanta
goes to Peoria
[DEC. 5, 2000] Six employees from Schmidt-Marcotte Inc. participated in the 19th annual Greater Peoria Farm Show at the Civic Center Nov. 28-30.
---
---
Holiday Hoops...Oops, game not there
---
---
Hear it here!
The Faks Machine: Mike Fak and Jim Ash host a community call-in show. Their show airs on Lincoln Daily News over the MediaOne link every Wednesday night beginning at 7 p.m.
Sponsors: Mitchell-Newhouse, Gleason's Dairy Bar, J&S Auto
---


[click here for top stories for the day from around the world]
---
World/national news coverage
---