posted daily OVER THE NOON HOUR (CDT)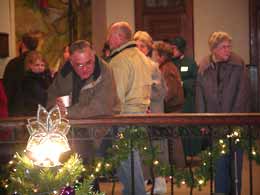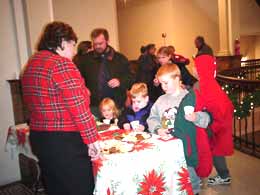 ---
Click here for news from other
sources regarding the presidential election
---
Santa's coming to town!

[DEC. 7, 2000]

All good boys and girls who want to visit Santa with their wish lists should come to 616 Broadway (the old D&G Antique Mall) this Saturday, Dec. 9.
---
ALMH's first administrator
Emil Stahlhut helped Lincoln
reach excellence in health care
Part 1
[DEC. 7, 2000] Before Emil Stahlhut and his wife, Jane, came to Lincoln in May of 1953, they hadn't stayed anywhere longer than three or four years. Emil had served in the United States Army in World War II, earned a degree in a new field, hospital administration, and worked in this new profession at three different Midwest hospitals. But when they got to Lincoln the Stahlhuts put down roots, and not only Abraham Lincoln Memorial Hospital but the entire Lincoln community has reason to be grateful.
---
Two historic Lincoln sites
to be celebrated Saturday
Lincoln exhibit to be unveiled
Postville Courthouse to reopen
Renovation project to create
'new face' for LCCS
[DEC. 7, 2000] Lincoln Christian College and Seminary is pleased to announce its plans for a multi-million dollar renovation and construction project to sweep its campus. The project is slated to begin as early as spring 2001.
---
All parents welcome
District 27 schools and
parents create unique learning opportunities for students
Part
3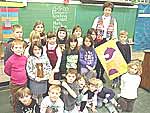 [DEC. 7, 2000] There once was a time when principals and teachers had to call parents in to the school to discuss a child's disciplinary or academic shortfall. But these days, parents of Lincoln District 27 elementary students frequently visit their child's school to help teachers and administrators enhance the educational process.
---

Illini Cookin' again

Illinois stifles Wisconsin-Milwaukee

[DEC. 7, 2000]

A

s the Illinois Fighting Illini prepare for a tough stretch in the schedule leading up to the Big Ten season, they simply took care of business Wednesday night. Led by Lincoln's native son, Brian Cook, who finished the night with 17 points and four rebounds, the Illini blasted Wisconsin-Milwaukee 85-44. This is the same Panther team that entered the contest with a record of 5-2 equaling Illinois' accomplishments to this point. It is also the same Panther team that only lost by four to a rapidly improving and scary-good group of Iowa Hawkeyes…and that game was AT Iowa!
---

---
---
Holiday events coming up
---
A holiday contest for you!
As a participant in the Ho-Ho-Dough holiday contest, Lincolndailynews.com has lots of tickets to give away to its loyal readers. Starting today and running through next Thursday, LDN will provide five daily questions, pulled from current ads and yesterday's stories, for you to answer. Each correct answer earns one ticket. Just e-mail your responses back to Lincoln Daily News, and we will save your tickets for you to pick up late next week. A drawing for $5,000 cash and other prizes will be at 5 p.m. Sunday, Dec. 17, at the Logan County Courthouse. Good luck!
Questions for Thursday, Dec. 7:
1. Which wreath won the most votes from attendees at the Festival of Trees at the courthouse?
2. What does "SHHH" stand for? (Check out Book Look.)
3. Name the Washington-Monroe teacher whose class won the homework award this week.
4. How much did the Postville Courthouse renovation cost?
5. What musical has the Lincoln Community Theatre chosen as their opener next season?
Click here to submit your answers
---
---
New LDN page!
---
Hear it here!
Fax Machine: Mike Fak and Jim Ash host a community call-in show. Their show airs on Lincoln Daily News over the MediaOne link every Wednesday night beginning at 7 p.m.
Sponsors: Mitchell-Newhouse, Gleason's Dairy Bar, J&S Auto
---


[click here for top stories for the day from around the world]
---
World/national news coverage
---