TOP STORIES
New Illinois Heritage Tourism Program includes Logan County Route 66 project
[DEC. 18, 2000] Gov. George H. Ryan has announced the selection of four new Illinois heritage tourism projects, including the first-ever project aimed at promoting African-American heritage within the state and further development of Route 66 as a viable tourism destination in Illinois.
Lincoln/Logan County tourism director
excited about new tourism program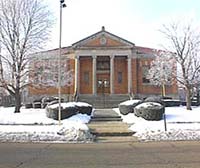 Library receives grant for books
[DEC. 18, 2000] The Lincoln Public Library District announces that it has been awarded a $2,500 grant from the office of Jesse White, secretary of state and state librarian, for the purchase of new books for the library.
Electoral college votes today
[DEC. 18, 2000] Electors are meeting today in each state as the electoral college officially selects America's next president. Some states have already sent in their votes. In some places where winter has struck hard, parties are appointing replacement voters because the electors cannot travel to the state capitol. According to CNN, the spotlighted Florida electoral vote took place at noon EST. The formality of voting in different states will vary greatly. Some states have color guards open the ceremonies, some states invited grade school students to witness the process, and in Alaska the electors are gathering in a library in Anchorage. The last state to vote, due to time zone differences, will be Hawaii at 7 p.m. EST. All of the electoral votes are expected to be finished by 6:30 or 8 p.m. CST. For more information on the electoral college results, please visit our World/National News or Elsewhere page. Click below.