Community ownership needed by EDC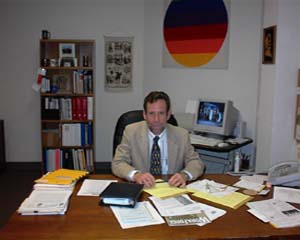 [FEB. 3, 2000] Lincoln, what do you want to be when you grow up? That is the question that Mark Smith, the director of economic development for Lincoln and Logan County, is trying to help answer. Smith is trying to help the residents of Logan County get to where they want to be and to make everything in county the best that it can be.
Interview by Jeff Mayfield
A Lion in Winter
[FEB. 3, 2000] This week Sports Talk focuses on Lincolnís only active NFL player, Tony Semple. Tony is currently a starting offensive lineman for the Detroit Lions. It wasnít that long ago that he was patrolling the gridiron for the Lincoln Railers. He also spent time on the hardwood for the basketball Railers. I caught up with him via telephone from his Michigan home early Monday evening to talk about the season and what he remembers most about LCHS.
Local hair stylist celebrates 36 years
[FEB. 2, 2000] Curly or straight, short or long, Jane Horchem has seen and styled it all. Today she celebrates 36 years as hair stylist, business owner and friend to many Lincoln residents who visit her beauty shop, Janeís Fashion Kurl, located at 452 Eighth Street.
Other News --
- Tis the season to give or receive