Happy Birthday Abe!
Logan County celebrates birth of the Great Emancipator
[FEB. 12 2000] "He freed the slaves," is how Josh Kastendick, a second grader in Sara McCormick's class at Zion Lutheran, remembers Abraham Lincoln. Like schools throughout the county, Zion Lutheran reaches a high pitch of activity each year at this time.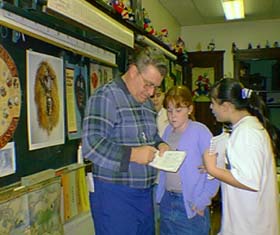 A Lesson for Life
Local teacher extends learning far beyond the classroom
[FEB. 12 2000] Joe Hackett has been teaching fifth grade at Central School in Lincoln for 24 years, and he's not tired of it yet. He's in elementary education for three reasons, he says, "the kids, the kids and the kids."
In Honor of Abe

Local Lincoln impersonator dies

[FEB. 11, 2000]

Most people knew Harry Hahn by one name. A name that was in fact not his own. Children, teen-agers, parents and grandparents alike would holler "Abe" from near and far when Hahn was around. They found a connection with him because of his connection to this community.