Full Service
For food pantry volunteer it's a way of life
[FEB. 19 2000] The least flower, with a brimming cup, may stand. And share its dew-drop with another near." Elizabeth Barrett Browning reflects on sharing with others; benevolence. Altruism is the giving of self to others in kindness when not expecting anything in return. In fact, psychologists tell us that this sort of selfless giving makes us better and happier people. The Lincoln Food Pantry, located on the northwest corner of Broadway and Logan Street, is this sort of benevolent service to the community and Judy Parmenter is but one of the good neighbors who volunteers her time to help others.
911 First Line of Defense
[FEB. 19, 2000] It is not an easy task—16 phone lines, 35,000 people and two 911 dispatchers to meet their needs. But for Officer Mark Mann, 911 communication supervisor, it's a challenge he enjoys. "We are the first line of defense to solve a problem," explains Mann, who has served as communication supervisor for the past 12 years. "People call us because they don't know who else to call."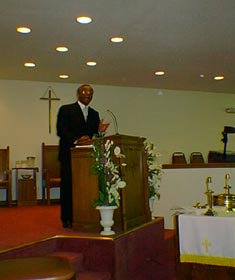 Firm Faith
A look inside Second Baptist Church
[FEB. 18, 2000] My decision to visit Second Baptist Church was not a very scientific one. I had never visited the congregation nor did I think I knew anyone there, so I believed it would be interesting to meet with and worship with new friends. About all I knew was that Second Baptist was one of the African American churches in Lincoln. The morning I spent at Second Baptist and a subsequent interview with the Rev. Glenn Shelton, pastor of the congregation, allowed me to move beyond academic knowledge of the African American church and allowed me to see the living expression of faith by the family of believers in this church. It is a church that is integrated in both flesh and spirit, in both body and soul. My time there gave me a deeper understanding of the importance of this church for all citizens and people of faith.