NEWS
PEOPLE
COMMUNITY
ENTERTAINMENT
FEATURES
The Arts
REVIEWS
EDITORIAL
COMMENTARY
ADVERTISEMENTS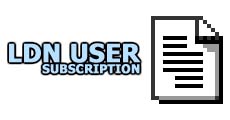 LDN is best viewed with
Internet Explorer 5.0.
Lincoln, IL
posted daily aT NOON (CDT)
---

Fireworks postponed
[JULY 5, 2000] If you didn't feel like braving the possibility of being stormed on last night, you haven't missed out. Rain postponed fireworks at Lincoln and Mount Pulaski, but the displays have been rescheduled. Lincoln's fireworks will be tonight, Wednesday, July 5, at the Lincoln Park District on Primm Road, and Mount Pulaski's fireworks display will be at dusk Saturday, July 8, at Frazier Park.
---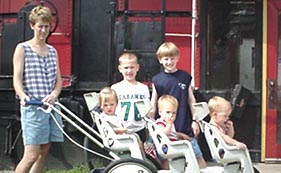 The Smith family goes for a walk.
Mom (Brenda) pauses with Tanner, Tyson and triplets (in stroller) Mikayla, Josiah and Devin in front of the Restaurant at the Depot.
---
This is the first in a series of travel stories featuring local cities located within a short driving distance from Lincoln.
Exploring Peoria
Lincoln's neighbor to the north
[JULY 5, 2000] Many may be surprised to learn that Peoria – Lincoln's neighbor to the north – also has a very important tie to Abraham Lincoln: It was in Peoria that he launched his political career with his first denouncement of slavery. Just a short drive north of Lincoln, Peoria is a city with a lot more to offer than just being home to the world-famous Caterpillar, Inc.
---
BOOK LOOK


"Raising A
Thinking Preteen"
[JULY 5, 2000] "A child who learns to problem solve in her very early years will continue to do so…in this book, I'll explain how older children, ages 8 through12, can use ICPS skills to meet the array of situations they encounter at school, at home and with their friends." This is the theme behind the new book, "Raising A Thinking Preteen," by Dr. Myrna Shure, a developmental psychologist at MCP Hahnemann University in Philadelphia.
---
COLUMN: the em space


Try this memory test
[JULY 5, 2000] A recent weekend guest solved a cryptoquote that said, "If you want to test your memory, try to remember what you were worrying about one year ago today." I decided to take the test.
---
LAW & COURTS

Police reports
[JULY 5, 2000] Law and Courts lists the latest reports from the Lincoln City Police Department and the Logan County Sheriff's Department. All citizens listed in the police reports are innocent until proven guilty by a court of law. The Lincoln Daily News does not list the names or exact addresses of individuals, unless convicted and over the age of 21. Listings include weekly court reports, marriage licenses and dissolutions.
---