Ciaccio says she is looking forward to building the Lincoln College softball program. "We have a solid group of athletes coming in, led by Ronni Beebe (Lewistown), Brandi Barnes (Canton) and Carrie Pestle (Macomb), but we will be young. We'll have to see during the fall season exactly what we have."
Lincoln College Athletic Director Allen Pickering says he's happy about the announcement. "We're fortunate to get someone with her experience and qualifications this early. It was important to us to not have a big gap in time when searching for a coach for our softball program. We're very pleased with the outcome."
This is Ciaccio's first head coaching position; she was the assistant varsity coach of the softball program at Millikin University in Decatur before joining Lincoln College. Ciaccio also played ball at Millikin University and with summer teams such as the Decatur Breeze, the Decatur Scorpions and the Springfield Rockettes.
She replaces Nicole Turley, who left this spring semester to pursue other interests.
Ciaccio is originally from Momence and is currently working on her doctorate in English studies at Illinois State University.
After Sunday's tournament, four area golfers advanced to sectional play. Jan Bowers, Coy Hutchcraft, Rick Pettit and Pat Singleton will journey to Pekin Country Club to tackle a larger field of amateurs in order to earn the right to advance to the National Finals in Walt Disney World Resort in Florida.
A special Oldsmobile Scramble Handicap System formed the teams used for the scramble. Using a player's United States Golfing Association handicap, that number was converted into a new handicap used only for Oldsmobile Scramble play. With the use of this system, golfers at all levels are given an equal opportunity. In order for a team to play it must consist of four amateurs. A team's Oldsmobile Scramble Handicap may total no less than plus one and no more than plus eight, and only one player may have a negative handicap. Devising a team can get quite complicated, but this team is happy with what they put together.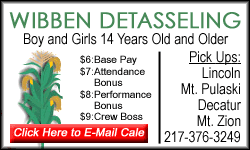 "It was a team effort and everyone contributed evenly," Pettit said after his team won bragging rights.
The winning team won with an effort of 58, 13 under par. Second place earnings went to Denny Cole, T.J. Cosgrove, Kendall Fitzpatrick and Tom Perry.
Once Bowers, Hutchcraft, Pettit and Singleton advance to Pekin, two teams will advance from there, one in a net division and the other in a gross score division.
Bowers is just coming off a stellar performance at Quincy, capturing the No. 2 amateur woman golfer position in the state of Illinois. Bowers returned to her home course to advance in yet another tournament to add to her collection.
(To top of second column in this article)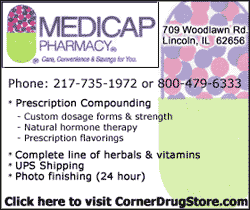 As the groups came off the 18th green, the pack was close, but Bowers, Hutchcraft, Pettit and Singleton etched the competition by a stroke, just avoiding a sudden-death tie-breaker.
Graue Inc. was the sponsor for the event. Elks Professional Adam Walsh was the host for the tournament.
"Thank you to Graue Oldsmobile for sponsoring and also to Adam Walsh for
contributing to the 2000 Oldsmobile Scramble," Pettit said.
Results for all eight teams are posted below.
58 – Jan Bowers, Coy Hutchcraft, Rick Pettit, Pat Singleton
59 – Denny Cole, T.J. Cosgrove, Kendall Fitzpatrick, Tom Perry
61 – Terry Brown, Dave Campbell, Bill Marcotte, Brad Nickles
62 – John Bunner, John Guzzardo, John Russell, John Welsh
64 – Bob Arneaud, Bob Coombs, Doug Muck, Jeff Nelson
64 – Jan Carmitchel, Dan Freesmeier, Harold Schmidt, Craig Smith
64 – Ron Hall, Dave Lockenour, Steve Schmidt, Keith Sheldon
65 – Bill Bates, Leann Connor, Larry Engle, Dale Spore
[Sarah Marten]