NEWS
PEOPLE
COMMUNITY
ENTERTAINMENT
FEATURES
The Arts
REVIEWS
EDITORIAL
COMMENTARY
ADVERTISEMENTS
LDN is best viewed with
Internet Explorer 5.0.
Lincoln, IL
posted daily aT NOON (CDT)
Friday at noon......
[JULY 15, 2000] The good people at Roger Garrett & Associates and Illico took a little break to frolic in the sun and enjoy each other's company at this authentic Hawaiian Luau. Activities included eating authentic Hawaiian hamburgers, swimming in the deep end of the pool, and a hoolah hoop contest (Nancy Schaub declared the winner), coconut bowling and it was rumored that a limbo contest was to take place later.
---
Summertime recipes
for food and drink
[JULY 15, 2000] Here it is the middle of the summer, the corn is sweetening, the veggies and fruits are ripening, the temperature is heating up, and everyone is thinking about their favorite summer activities and foods. Well, you take care of the activity plans and LDN will suggest the food ideas. This weekend's recipes are tried and true. Most are from the kitchen of Madge, the sister of Midge who writes LDN's movie reviews. They include a flexible marinade for grilling chicken or shish kabobs, desserts, and cold drinks.
---
An interview with Jeff Mayfield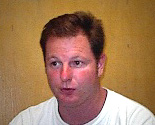 Tomczak next to tackle Lincoln High School football challenge
Part 5 of 6
[JULY 15, 2000] A new football coach has hit town. Ron Tomczak faces many challenges coming into his first season with the Lincoln Railers. With this in mind Coach Tomczak has come here with a plan...with a strategy to turn things around. Through July 17, you can read a series of questions and answers from an interview conducted by LDN Sports Talk writer Jeff Mayfield with Coach Tomczak. Get the inside scoop on how Coach Tomczak sizes up our team in the CS8, his strategy, philosophy and training plans to manage our team.
---
Part 2
Experience the flea markets
Pointers for shoppers
[JULY 15, 2000] In the book, "Flea, the Definitive Guide to Hunting, Gathering, and Flaunting Superior Vintage Wares," the ultimate guide to flea market shopping, the authors claim that once you're hooked, there's no turning back.
---
Concerts in the Park series
Paul and Win Grace to perform Sunday, July 16
[JULY 15, 2000] Popular Midwestern musicians Paul and Win Grace will perform on Sunday, July 16, for Main Street Lincoln's Concerts in the Park series. The free concert is at 7 p.m. in Latham Park, and those attending are encouraged to bring their lawn chairs.
---
Court reports
[JULY 15, 2000] Today the Law and Courts page includes a new set of weekly court reports:
---
[an error occurred while processing this directive]
---