Lincoln, IL
posted daily aT NOON (CDT)
Domestic violence no longer
acceptable as 'family affair'
[JULY 21, 2000] The message was clear – domestic violence is no longer just a family affair. It's a community problem, and one that a number of organizations in Logan County are working to solve. To raise awareness, members of the Lincoln Police Department, a former assistant state's attorney, mental health professionals and an abuse victim talked to an audience of about 30 Thursday night at the Johnston Center for the Performing Arts at Lincoln College.
---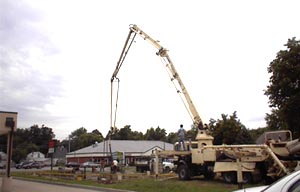 Excavation begins next door to the new Central Illinois Bank in the
400 block of Keokuk Street for a new Jimmy Johns Sub Shop.
---
Lincoln College HTML class builds Web site for local tourism bureau
[JULY 21, 2000] There's a new language being taught at Lincoln College that is helping the Abraham Lincoln Tourism Bureau of Logan County. The new class is Introduction to HTML, which stands for HyperText Markup Language. In plain English, HTML is a list of instructions that a computer uses to format pictures and text in the order you want them to appear on a Web page. The HTML class consisted of eight students who were given a project to create the Web site for the Logan County Tourism Bureau.
---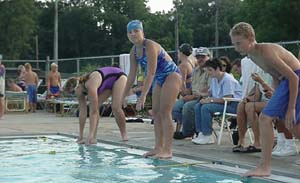 On a perfect summer evening, swimmers take their mark. Lincoln Gators hosted a dual meet against Athens Thursday evening at the Lincoln Elks Pool. Representing Lincoln in the purple suit, Amy Holmes gets ready to take the plunge.
---
Part 2
Major league report:
Midterm grades
[JULY 21, 2000] A few months ago this LDN reporter made some bold predictions about this year's major league baseball season, and amazingly some of them have actually come true! This proves once again, conclusively, that if you make enough predictions you might actually stumble on a correct one every once in a while. Needless to say, it has been an exciting campaign so far. The St. Louis Cardinals are in first place by seven games over the Cincinnati Reds, and the Chicago White Sox have a double-digit lead over the Cleveland Indians in their respective Central Divisions. The Chicago Cubs managed to keep Sammy Sosa on board and hope to turn things around during the second half of the year. This week the LDN gives you a mid-season look at how the season has shaped up so far and what you might expect in the second half.
---
Animals for adoption
These animals and more are available to good homes from the Logan County Animal Control at 1515 N. Kickapoo. Fees for animal adoption:
dogs, $60/male, $65/female; cats, $35/male, $44/female.
The fees include neutering.
---
Lincoln Gators win
[JULY 21, 2000] The Lincoln Gator Swim Club competed with swimmers from Athens on Thursday, July 20, at the Lincoln Elks pool. The final score was Lincoln 476, Athens 447. Individual and team results are listed in Sports News.
---
"Logan County Trees"
How well do you know the trees
of this fair county?
---
Church sponsors summer rummage sale
[JULY 21, 2000] Trinity Episcopal Church, 402 Pekin St., is sponsoring a summer rummage sale this Saturday, July 22, from 7 a.m. to noon in the church basement. From 11 a.m. to noon all remaining clothes will be sold for $1 a bag. Proceeds from this sale will go to local charities.
Click here for more garage sale and rummage sale listings on LDN's exclusive Garage Sale Central.
---
[an error occurred while processing this directive]
---