NEWS
PEOPLE
COMMUNITY
ENTERTAINMENT
FEATURES
The Arts
REVIEWS
EDITORIAL
COMMENTARY
ADVERTISEMENTS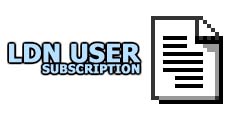 LDN is best viewed with
Internet Explorer 5.0.
Lincoln, IL
posted daily aT NOON (CDT)
Farmers' market brings customers, vendors together
[JULY 25, 2000] Satisfied customers and vendors who go home with empty pickup trucks are the sign of a successful farmers' market. That was the story on a recent Saturday morning at Lincoln's Latham Park, where by 11:15 customers had carried away so many bags of vegetables and baked goods that some vendors were saying, "Sorry, I'm sold out."
---
---
BOOK LOOK
"The Greenspan Effect"
[JULY 25, 2000] Alan Greenspan currently serves as chairman of the United States Federal Reserve System. According to authors David Sicilia and Jeffrey Cruikshank, Greenspan is the person most responsible for "the unprecedented power and influence it (the Federal Reserve) wields today over global financial markets." In their new book "The Greenspan Effect," Sicilia and Cruikshank investigate Greenspan's effect on global markets by examining key passages from his speeches and public comments.
---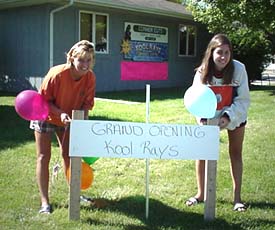 Kool Rays owner Tami Paulus (left) and manager Nikki Gandolfi add balloons to attract attention to their new location at 302 S. Hamilton St.
They're celebrating their grand opening this week.
---
the em space
After 250 years,
his music lives on
[JULY 25, 2000] Obituaries are regular reading for many people. Accordingly, the em space has put together an obituary to observe the 250th anniversary of the death of a composer considered to be perhaps the greatest of all time. Johann Sebastian Bach, 65, of Leipzig, Germany, died on July 28, 1750. Burial was in the St. John's churchyard. Bach had been director of music for St. Thomas School since 1723. From 1729 to 1741 he was also director of the music society which performed weekly at Zimmermann's, a Leipzig coffeehouse.
---
Tiger is simply
"the best that's
ever been"
[JULY 25, 2000] All of the sports writers today come close to saying it, but they won't spit it out. They're probably waiting to see if Tiger Woods can consistently win major golf tournaments year after year the way Jack Nicklaus did in his prime. The LDN is not going to wait. Years from now our grandchildren are going to ask us if we ever saw Tiger Woods in his prime. Not only did we see him; he overwhelmed us. He doesn't just win golf tournaments, he obliterates the field. In the movie "The Natural," starring Robert Redford as the old rookie Roy Hobbs who finally makes it to the major leagues, there is a scene where Hobbs is busted up, lying in a hospital bed. A friend asks him what he wants from the game and his reply is a classic one: "I want people who are walking down the street to say, 'Hobbs was the best that's ever been.'" This week the LDN makes that claim regarding Tiger Woods!
---
GOOD NEIGHBORS
Blood donors reach milestones
[JULY 25, 2000] The Red Cross has announced names of donors at blood drives in Lincoln and Atlanta who reached milestones in June for gallons of blood given.
---
Customer praises local shopkeeper
---