In Search of Health
Good nutrition still possible for today's busy lifestyle
[MARCH 3, 2000] "The news is full of conflicting ideas about what is good for us to eat. But despite the confusion, what we eat and don't eat really does make a difference to our health," says Robin Rinker, director of nutrition services at Abraham Lincoln Memorial Hospital. "Good nutrition doesn't have to be complicated. It doesn't mean you have to plan an elaborate meal, though it does take some thought and preparation. You can 'grab and go' and still eat nutritious foods."
Hartsburg-Emden FFA Members Participate in Speaking Event
[MARCH 3, 2000] Four Hartsburg-Emden FFA members participated in the Section 14 FFA Public Speaking Career Development Event Feb. 28. Natalie Coers entered in the FFA creed speaking division. Kent Leesman placed first in the junior varsity extemporaneous public speaking, Scott Semple received first place in the varsity extemporaneous public speaking and Kate Wrage placed second in the varsity prepared public speaking division. Scott and Kate advance to district competition at Western Illinois University on April 5th.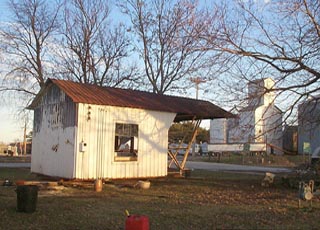 Middletown Landmark Joins Old Route 66 Collection
[MARCH 2, 2000] Although a Middletown landmark is gone, folks who miss it will soon be able to see it restored to all its former glory. The small, white gas station with the big canopy that sat on the corner at 105 Fifth St. in Middletown for more than 60 years will be only a short drive away. In a few months it will become a featured attraction in a collection of automobile service station memorabilia in Springfield.