Dance Fever
A day in the life of a local studio owner
[MAR 4, 2000] Audra Turley fell in love at the age of three—and she's been dancing ever since. At 32, Turley is the owner of Audra's Dance Studio on South McLean Street in Lincoln. Mrs. Audra, as her students fondly refer to her, puts in nearly 60 hours each week training people of all ages the art of dance, whether it is tap, jazz, ballet, clogging or Irish dance. "It's what I want to do," she says.
Turley teaches classes five or six days per week, year-round to approximately 250 students. Her day begins around noon and ends around 10 p.m., during which she teaches 45-minute sessions back-to-back. She structures her classes in 15-minute increments of stretching, technical training, and routine practice. To help her out with her extremely busy schedule, Turley's mother works with her, taking care of her bookkeeping.
Her love of dance is what keeps her going, and plays a big part in her success. "I don't see myself ever giving it up," she explains. She believes her work is very rewarding because she is able to witness the weekly progress and growth of her students. "When they are finally done (with training) it's hard to let them go, but to see them mature over the years is very rewarding."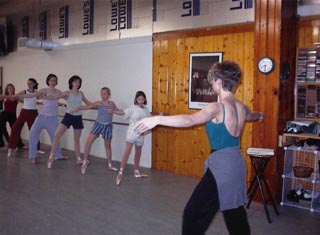 [Beginning pointe students warm up at the barre.]
And, the growth isn't only evident in their dance ability. "Dance gives the students a really positive self-image and confidence," she says. Intertwined in the dance instruction, Turley tries to present the ideas of good sportsmanship and trying your best. These ideas are reinforced through a variety of dance activities, such as recitals, local performances and regional competitions. This year, teams are planning performances in Branson, Missouri, Disney World's Magic Kingdom and Universal Studios in Florida. Additionally, every year students have the option of performing in a recital held for family, friends and the community. "It's a fun ending and a good experience," she says.
[Turley believes equipping students with the proper technique is vital to developing a good dancer.]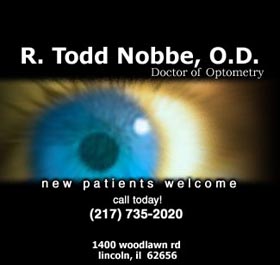 Turley keeps abreast of the latest developments in dance by continually learning new techniques and ideas at dance workshops. She explains that she thinks it is extremely important for dance instructors to have the proper training. "If you don't know how to train them, you could hurt them," she contends. Turley holds a master's degree in dance and is a certified instructor.
In the future, Turley would like to expand her studio by adding more dance space and instructors. But she adds that she is very happy with her work and appreciates the support of her family and her husband. "I don't mind coming to work every day," she says. "It really is fun."
Turley resides in Lincoln with her husband Brian.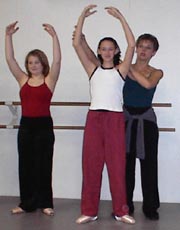 [Dancers learn the art of por de bras - placement of the arms.]