Zion Lutheran School Celebrates National Lutheran School Week
[MARCH 7, 2000] Zion Lutheran School, located at 1600 Woodlawn Road, is celebrating National Lutheran School Week. This year's theme is, "Shine Like Living Stars." Students of all ages began the event-filled week with yesterday's Hobbies and Careers Day. The PTO organized a day's worth of activities to expose the students to nearly 50 different professions.
---
Police Ask Citizens' Help to Combat
Meth Labs
[MARCH 7, 2000] The methamphetamine labs that are a growing problem in Central Illinois pose many different hazards, according to Master Sergeant Bruce Liebe of the Illinois State Police. Ingredients used to make the drug can maim or even kill. The labs are a fire hazard, and the toxic waste they produce is destructive to the environment and costly to clean up.

Happy Sailing with the Navigation Bar
[MARCH 7, 2000] Many people skip over the table of contents in a book. Change the list to a navigation bar and more people use it. You find the heading you're interested in, click there and go right to the page. (At least it works that way if the links are connected.) You might say the navigation bar is an alternative to a table of contents. For an alternative, personal look at the main subjects on our navigation bar, read "the em space."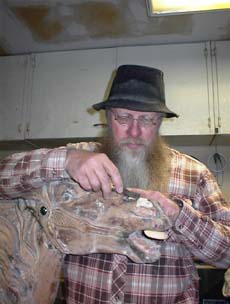 Sutton's Style
Artist, musician, philosopher--he's one
of a kind
[MARCH 7, 2000] Restoring merry-go-round horses may be an unusual way to make a living, but it suits John Sutton. At least, it has for the past 10 years. In his Lincoln workshop, scarred and battered wooden horses, some minus ears, tails or legs, will once again become the brightly painted prancing steeds that delighted the hearts of children years ago.