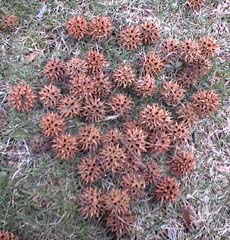 A Not So Sweet Fruit
[MARCH 9, 2000] The brown fruit of the sweet gum tree is creating problems for local homeowners. The sweet gum tree is a tall, stately tree that grows throughout most of the United States, with Central Illinois being at the northernmost perimeter of its region. Its fruit is a brownish spiny ball that remains on the tree throughout the winter. This fruit plugs up drains, continuously litters yards and is a big nuisance, says Don Osborne, street superintendent of Lincoln. "The city's policy has been not to remove trees unless they are dead, diseased, dying or dangerous," he continued.
---
It's a P.A.R.T.Y.
[MARCH 9, 2000] Positive Actions Relating to Youth, or P.A.R.T.Y., will bring seventh graders from all over Logan County to the campus of Lincoln Christian College on Friday, March 10. They will attend 10 workshops presented by high school students from Mount Pulaski, Hartsburg-Emden and Lincoln Community High School. These students will use skits and drama to show the seventh graders what to expect in high school, exploring such issues as dating and friendship, laws that impact young people, violence in schools and what it's like driving after you've been drinking.

[complete story]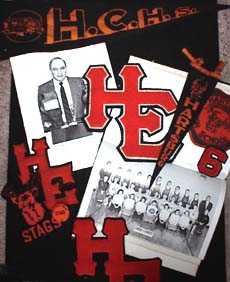 Forty-eight Years in
the Making
Hartsburg-Emden's tourney—state's oldest
[MARCH 9, 2000] Dave McGraw has invested some 31 years in the state's oldest, most continuous frosh-soph basketball tournament. Over the years it has included some unique features including a queen contest. Some of the best future Class A stars have formerly played in this tournament. I caught up with Dave at his home to get his take on this tradition rich extravaganza.

"Nothing Compares with
E-mail and Web Pages" to Keep Friends in Touch
[MARCH 9, 2000] As messages come in, we are happy to share letters and follow-up stories from former Logan County residents now living elsewhere. Some of these people have been away from the area for 10 to 20 years but still enjoy keeping up with the local news. We have written back to half a dozen correspondents, from Nebraska to Florida to Germany, and hope to share more details from them in future Diaspora features. We post new messages on Thursdays.

[complete story]