Q: Dave, give us the history of this tournament and tell us how it is set up.
A: The Hartsburg-Emden Freshmen-Sophomore tournament is in its 48th year. It has been a 16-team tournament throughout most of the years it has existed. I was involved with the tourney for 31 consecutive years either as the head coach or as the athletic director. I retired in 1996 as athletic director. It has been a good tournament, in fact, Iím sure itís probably the oldest frosh-soph basketball tourney in the state of Illinois.
Q: What are some of the highlights of the tourney? Any special players or unique features?
A: As far as players, that would be hard for me to say. You know, there have been so many outstanding players that have played in it that have gone on to become great varsity players. I will tell you this--something that we started several years back--is that we have a queen contest. Each school selects a queen representative. The coaches and officials select the queen candidate out of the 16 teams that are entered. She is crowned at half-time of the third place game on the final night of the tournament. The finals have traditionally been held on a Saturday night. So, that adds a little extra interest to the festivities.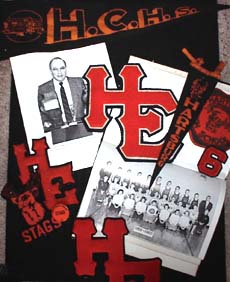 Q: How many days does this tournament run?
A: Normally, it starts on a Saturday. They play eight games on that first day. Then they played four games on Tuesday night and two games on Thursday night. The final Saturday is reserved for the championship flight: the third place game and the championship game. Itís spread out that way so that it does not conflict with Class A Sectionals in the area.
Q: Dave, how has Hartsburg-Emden fared in the tourney over the years?
A: Over the years, Hartsburg-Emden has not fared very well. To my knowledge they have only won the tournament one time. We play a lot of bigger schools, but what really limits us is that most of our boys use up their tournament eligibility playing varsity ball, since our overall rosters are small in number. Depending on how many games make up your regular season, each player can only participate in two or three tournaments, not including the IHSA Tournament. Weíve had players and teams that were good enough, but because we were small in number they had to play on the varsity and used up any eligibility that they might have had for the freshmen-sophomore Tournament.
Q: You have said that this 48-year-old tournament is the stateís oldest?
A: Iím confident because I donít think thereís another tournament in the state of Illinois that has been in existence for 48 consecutive years. Varsity yes, but not frosh-soph.
Q: Do you know the history of the tourney as to how it got started?
A: The gentleman who really got it all started was the late Fred O. Finchum. He was a farmer, coach and athletic director. He was the founder of the tournament. When he passed away, I continued to carry it on for the next 31 years. When I retired in 1996 they still continued with the tournament. I am no longer involved in it. Tom Mikelson, the athletic director, is heading up the tournament now.
Q: Tell me a little bit about the communityís feelings towards this event.
A: The community is actively involved and they really look forward to it. Since itís an annual event, itís on the calendar and something to point to every year. The crowds are good and attendance has been stable for years. Surprisingly teams and fans come from anywhere and everywhere. This year we have teams from as far away as Fisher, Va., and of course, many area teams. When Olympia came into being, we did lose some teams that were caught up in that consolidation. That actually took away eight different high schools and obviously eight teams that participated in our tournament. Basically, it is a Class A tournament. At least during the time that I was there, we tried to keep it strictly a Class A tourney because of the level of competition. When you bring in a AA school you could create a tough going for the other schools.
Q: I know you donít want to single out or leave out any players, but do any come to mind that have gone on to great careers?
A: Normal U-High has had some good ones. The Hubbard boys have been in there. One of them is a freshman at Wesleyan, the other one graduated last year. Olympia has had some good players in there. I donít really want to name any players, for fear of leaving someone out.
Q: Putting in 31 years sounds to me like youíve been a pretty big factor in this tourneyís success.
A: Well, Iíd like to think that Iíve played a pretty big part in it.
Q: What goes into putting this tournament on?
A: You want to give your underclassmen an opportunity to play. After the regular season is over, if they have tournament eligibility left, it gives them a chance to play up to four post-season games, if their team is good enough to get to the finals. Thereís a lot of interest. Youíd be surprised that some teams have been back every year. I will say this. This year is the first time in the history of the tournament that the host school, Hartsburg-Emden, does not have a team in the field. And itís because of the lack of numbers. We have a small number of boys in the program this year from freshmen through seniors, and we didnít have enough with any tourney eligibility left. This is the first time that has ever happened.
Q: Is there an all-tourney team and other awards?
A: We normally give four team trophies, and there are no individual awards. Each queen candidate receives an award as well. The queen also receives a trophy.
Q: Is this a double or single elimination tourney?
A: It is a single elimination tourney. You have to win your first two games to assure yourself a trophy.
Q: I would assume that this is something the players really look forward to. I know when I played, I never wanted the season to end; I wanted to keep playing.
A: Iím sure the coaches and players feel that same way. It gives them an opportunity to get more experience before they advance to the varsity level.
Q: What is the future of this tournament especially in light of not fielding a team this year?
A: We still have 16 teams entered this year without us. There have been some years when it was difficult to get 16 teams. A lot of schools are like us; they just donít have the numbers. If they donít, they just pass on that year and arenít able to compete.
Q: This tournament has to be a great learning environment for the younger players.
A: They get experience and a great chance to compete.
Q: I commend you for investing 31 years into such an outstanding event. As a former player, I know we owe a huge debt of gratitude to you and people like you, who put on tourneys and put together schedules so that we could enjoy countless athletic experiences.
A: It feels good, especially when you see all the parents and fans come in here and support their teams.
Editorís Note: This yearís winner of the 48th annual Hartem Frosh-Soph Basketball Tournament was Warrensburg-Lathamís sophomore team. Last Saturday this team defeated Fieldcrest High School to take home the winning trophy. Other teams included third place finisher, Delavan; fourth place finisher Illini Bluffs; Greenview; Dee-Mack; Central Catholic; Farmington freshman and sophomore teams; Midwest Central; Tri-Valley; Virginia; Warrensburg-Lathamís freshman team; Olympia; Fisher; and A-C Central.