The ABCs of B & B's
Chamber to hold bed and breakfast workshop
[MARCH 14, 2000] Could a bed and breakfast—or perhaps more than one—be in Logan County's future once again? It's a possibility that the Lincoln/Logan County Chamber of Commerce and Main Street Lincoln are encouraging interested persons to explore. The two groups are sponsoring a Bed and Breakfast Start-up Workshop on March 30 from 8 a.m. to noon at Eckert's, 123 S. Sangamon St. in Lincoln.
March is –
[MARCH 14, 2000] Happiness is ____. Love is ____. Christmas is ____. Easter is ____. Television programs, movies, comic strips and children's essays have suggested ways to complete open-ended sentences like that. This week's "em space" fills in the blank for what March is.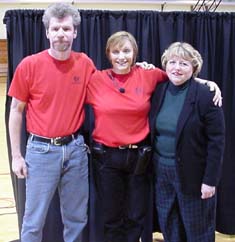 Building a cornerstone
Students reap the rewards of school's investment
[MARCH 14, 2000] He is "so wonderful to let us do this," counselor Rita Seggelke stated about Illini Central Middle School principal Rick Levek. "This is an investment," added Cornerstone Production founder Laura Clark-Hansen, "and it's phenomenal for a principal to be so proactive."