TOP STORIES
Lincoln Daily News: easier to navigate, easier to read
[MARCH 15, 2000] In keeping up with our increased readership, Lincoln Daily News has made some improvements to the site. It is now easier to navigate. Every article in the entire paper is accessible from every page. Just scroll down to the bottom of every page and see the index, which lists the title of every section. After reading an article you can click on the next column of choice and you will quickly jump to that page. This will enable YOU to choose what you read.

Sheriff's deputies go
high tech
[MARCH 15, 2000] Felons intending to commit a crime in Logan County should be forewarned that their criminal records are as close as the touch of a computer key. The two Logan County K-9 sheriff's deputies will soon be receiving the latest in police technology. Thanks to $16,500 in drug forfeiture monies provided by Logan County State's Attorney Bill Workman, the two K-9 units will have touch-screen laptops that will be mobile with the police unit. These computers will give officers instant access to anyone's criminal record information.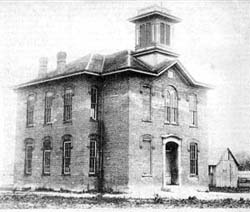 School's funding
per student
How do we stack up?
[MARCH 15, 2000] How do we stack up in comparison to other counties here in Illinois in terms of education? Today we will take a look. See where Logan County sits with "Operating expenses per pupil." And what is the average daily attendance in every county's schools? Click below to find out. (All information was maintained from the 1999 Illinois Statistical Abstract.)