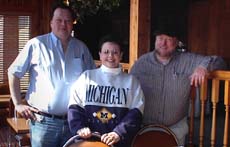 TOP STORIES
Back on track
Lincoln Depot to open
doors soon
[MARCH 16, 2000] Renovations to the restaurant at the Depot are underway and will probably continue until it's time to open the doors for dinner on March 28th. The restaurant will offer a Sunday brunch, and in April lunch will be added. The restaurant will be open Tuesday through Sunday.

[complete story]
Hobbs, Lady Railers hope for hot bats
[MARCH 16, 2000] Lady Railers' softball coach Michelle Hobbs is very hopeful about the upcoming season. Even though she lost several seniors from a year ago, there is much optimism about this campaign. Coach Hobbs says that if the girls will concentrate and work on cutting down their errors and also rattle the bats a little, they could enjoy a very competitive season. The Lady Railers hope to build on last year's 16-18 mark that included a solid 8-6 mark in Central State 8 conference play.

Weindorf, Brainard—in touch with their roots
[MARCH 16, 2000] Lincoln Daily News invites former Logan County residents to connect with friends here through our Diaspora page. After following up on earlier messages, we've just received additional correspondence from Donald Weindorf of Omaha, Neb., and Charles Brainard, with the U.S. Army in Atlanta, Ga.