Included on the tour is the only example of stick Victorian architecture in town, in addition to homes originally occupied by some of Lincoln's earliest prominent businessmen and citizens.
Tour maps will be available. Each home on the tour will have a corresponding numbered sign in the front yard, to match the numbers on the routed map.
The tour is just one of several events planned during the National Trust's Historic Preservation Week celebration May 8-14. The theme of this year's event is "Taking the Past Into the Future."
Sponsors of the week's activities are the city of Lincoln and Main Street Lincoln, with financial support from Beans and Such and The Blue Dog Inn. Information obtained for the home tour was compiled from a variety of resources, with special recognition given to the Lincoln Public Library and local residents Paul Gleason, Jean Gossett, Ruth Sloot and participating homeowners and other residents.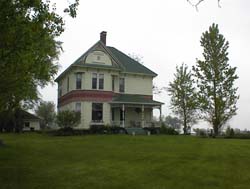 Brief descriptions of the homes featured on the tour, in the order they will appear on the tour map, are listed below:
*1 – 1324 1500th St. (next to Chester East Lincoln Elementary School), owned by Christopher Wills and Penny Zimmerman-Wills. The Queen Anne-style farmhouse, which sits on more than two acres, was built around 1895 and features exterior fish-scale shingles and other decorative trim, highlighted by several coordinating colors of paint. Many interior and exterior period features of the home have been restored, including the rebuilding of the front porch, which was a victim of a tornado several decades ago. Photographs were used to match the original gingerbread.
*2 and 3 – 119 Lincoln Ave., "Suma Ray," owned by Mr. and Mrs. David Hepler, and 123 Lincoln Avenue, "Irendean," owned by Mr. and Mrs. Terry W. Werth. Built as "sister" homes around 1927 for Katherine Gillet Hill and her son, John D.G. Hill, both homes were originally pink stucco with blue tile roofs. The balustrades and entrance door pillars were carved on-site and designed to match the interior fireplaces.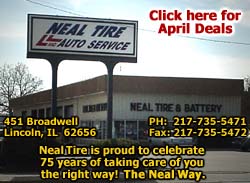 *4 – 505 College Ave., owned by Mr. and Mrs. Timothy McCormick. The Italianate-style home was built in 1874 by H.B. Schuler, a local banker. The home has a low-pitched cross-hipped roof, asymmetrical facade and arched windows.
*5 – 328 Peoria St., owned by Donald and Georgia Vinson. This is the only example of "stick Victorian" architecture in Lincoln, with elaborate balustrades, railings, porch columns and other gingerbread woodwork.
*6 – 110 Park Place, owned by Pat and Lisa Madigan. Harry "Les" Atlass started the local WBBM radio station with the first broadcast from this home's basement Feb. 6, 1924. History was made when WBBM carried the county's district high school basketball tournament live from Lincoln College – the first athletic event broadcast in the United States.
*7 – 200 Park Place, owned by Mrs. Phillip Reese. The home, built in 1916 by William Hodnett, is an excellent example of the Prairie style inspired by Frank Lloyd Wright. The home's flat roof was a shock to the neighborhood at the time it was constructed.
*8 – 226 Park Place, owned by Ted and Marlene Perry. The home was built in 1921 by the father and stepmother of famous author and Lincoln native William Maxwell, who now resides in New York. The former editor of The New Yorker magazine also wrote, "So Long, See You Tomorrow," published in 1980 and based on a 1921 murder-suicide involving two Logan County tenant farmers. The current owners are the third generation to occupy the 79-year-old home, which has always been in the McGrath/Perry family.
*9 – 104 Tremont St., owned by Mr. and Mrs. David Weaver. The brick home was built by Sam Keys during the 1940s and is a classic example of the Prairie style, with a low roofline and straight-line porch.
*10­ – 304 Tremont St., owned by Mr. and Mrs. Jeff Granitto. Built in 1805 by Issac Stiefel and later owned by Andrew Logan and Edna Anderson, the home features a cross-gabled roof with decorative half-timbering, stucco and multi-paned glazed windows, among other features of English Tudor design.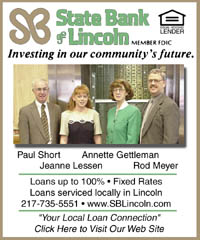 *11 – 309 Tremont St., owned by Mr. and Mrs. Timothy Searby. When built in 1928, the home was designed in the simple Prairie Mission style, but in 1951 the exterior was changed dramatically and it now resembles an Adirondack lodge, with a fieldstone foundation and pillars.
*12 – 520 Tremont St., owned by Mr. and Mrs. Stuart Wyneken. The home was constructed in 1922 for the Wilber Gullett family, who owned and operated Gullett and Sons Florist and Greenhouse of Lincoln. Gullett was Wyneken's grandfather, so the current owners are the third generation of the family to reside in the home. Some of the features of the English Tudor residence include an original Vermont slate roof, copper gutters and multi-paned windows. The home received the 1999 Mayors Award for Historical Preservation in residential preservation.
*13 – 503 Delavan St., owned by Charles and Marilyn Pegram. The home, built in 1866 by the Fogarty family, was originally designed as an Italiante clapboard. In 1912, the Bunk family remodeled it to its present Prairie design. The many beveled windows were purchased in France as a wedding gift. The hitching stone still sits in the backyard, with a stone used to assist a rider when mounting a horse.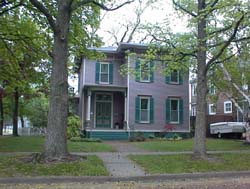 *14 – 419 Delavan St., owned by R. James and Rebecca Johnson. Henry Abbott, who was born in England, came to Logan County about 1865 and, after retiring from farming, built this house in the early 1870s. The 1875 city directory lists this as one of the first houses on Delavan Street.
*15 – 311 Delavan St., owned by Mark and Julia Gerardot. The home was originally owned by R.B. Latham and consisted of two rooms constructed in 1872. It has been enlarged many times over the years, but by the late 1890s, it was similar to how it is seen today – a Victorian cottage.
*16 – 227 Pekin St., owned by Rev. Paul Gilmore and Leta Herrington. This example of Italianate architecture was built in 1864 by James Gillespie, who was a local mercantile owner. The home features etched glass highlights in double entry doors and was recently painted in five complementary colors.
*17 – 215 North Union St. This structure, designed by Lincoln architects Deal and Ginzel in 1919 for Mrs. George Rohrer, was considered the "landmark of Lincoln" at one time. It has served as the Kraus Retirement Home since 1983.
*18 – 229 N. Union St., owned by Mr. and Mrs. Don McCubbin. The hipped roof and spindle work identify this Queen Anne style home, which also features low cross-gables, a second-story porch and cutaway bay window with brackets. Veterinarian Thomas Donald built the home in 1889. Donald operated the largest horse farm in Illinois at that time.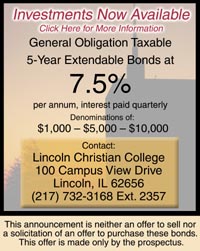 *19 – 417 N. Union St., owned by David Lanterman and Don Malotte. This Spanish Imperial home was built as a unique duplex by the Leslie Dowling family and is one of three identical homes designed by a Peoria architect. The other two homes are located in New York and California. The original characteristics of the home include a hipped tile roof, central parapet and side portico.
*20 – 700 N. Union St., owned by Mrs. Robert D. Edwards. (Please note: View from Union Street, do not drive through). This Greek Revival structure began in 1874 as a square-hipped roof style and was originally the home of Benjamin and Ella Brainerd, who opened the first bank in Lincoln, the Banking House of Brainerd and Duston. Brainerd later was one of the organizers and largest stockholders of First National Bank. Additions and remodeling were completed on the house during the 1880s and 1890s. The fluted classical columns with Corinthian capitals came from the old Springfield Marine Bank.
[Penny Zimmerman-Wills]
Lincoln's City Hall opened to the public on Monday, March 2, 1896, after the various departments moved in over the weekend. There were 8,000 residents in Lincoln at the time.
The first story was subdivided into various departments, with the second story including the council chambers, offices for the mayor and city attorney, and dormitory space for the fire department. The main staircase, located in the rear of the building, was made of red oak, and the upstairs floor is quarter-sawn yellow pine. The floors throughout were laid double thickness with two layers of deafening felt. Ceilings and walls were plastered, and all hardware was bronze with a copper finish. The building was piped for gas and wired for electricity as well, so that either energy source could be used.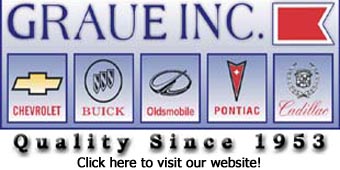 The basement housed the coal bin and a 25-by-48-foot room under the fire department for tramps, who could apply to the police department for safekeeping. If accepted, the "tramps" stayed in a room with a concrete floor, water closet and sink, substantial bunks, and seats. Windows and doors were covered with iron grates, and entry was from an outside flight of steps.
Superman has never used the telephone booth on the roof of City Hall, and it certainly wasn't an original fixture. It's previously been used as a lookout for inclement weather.
The ASHA is a credentialing association of almost 100,000 speech-language pathologists, audiologists, and scientists in the fields of speech-language and hearing.
Consumers may contact the AHSA by phone at 800-638-8255, send e-mail to actioncenter@asha.org or visit http://www.asha.org/contents.htm for listings of certified audiologists and speech-language pathologists, self-help groups, summer programs and brochures. Nationally, audiologists and speech-language pathologists have provided free hearing and speech screenings in May.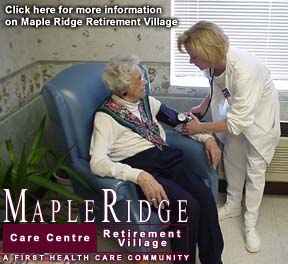 Locally, people can call Abraham Lincoln Memorial Hospital, 217-732-2161, extension 179 (rehab department) to make appointments for hearing screenings. Also, the Logan County Public Health Department provides free hearing tests for children (ages 2½ to 21) when parents or physicians suspect there is hearing loss. For information, call Peg Gilmer at 217-735-2317.
Communication disorders affect an estimated 42 million Americans, including 28 million with hearing losses and 14 million with speech-language disorders. These disorders can have adverse effects on a person's academic achievement, social adjustment and career advancement.

Audiologists and speech-language pathologists can recommend preventive measures (such as ear protection against noise exposure), identify and assess existing communication disorders, provide information on coping strategies, and recommend appropriate assistive technology, which can range from hearing aids to voice-synthesizing computers.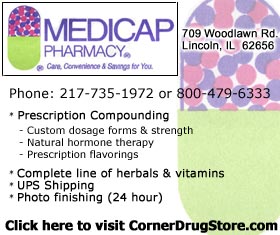 Speech difficulties that are diagnosed and treated by speech-language pathologists include the following:
Stuttering and other fluency problems

Articulation or pronunciation difficulties (substituting, omitting or distorting sounds)

Disorders that limit a person's ability to understand language (Some "learning disabilities" are actually language disorders.)

Voice disorders (This can include speech that is too high, low, loud, soft, nasal or hoarse.)

Aphasia (Typically following head injury or stroke, aphasia limits people's ability to express what they are thinking, although the thinking is clear.)

Speech-language pathologists also assist with dysphagia, a swallowing disorder.
Audiologists identify and assess hearing disorders. Treatment recommendations may include hearing aids and other assistive devices. Hearing loss sometimes develops gradually, with noise exposure or aging, for example.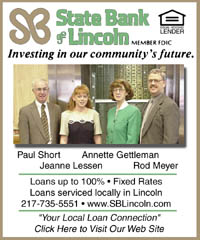 These are signs of a possible hearing loss:
Frequently asking people to repeat what they have said

Turning one's head to hear a sound better

Understanding conversation better when wearing glasses or looking directly at the person talking

Difficulty following conversation in a group

Using radio or television at a volume that other people say is too loud

Ringing or pain in the ears
Better Speech and Hearing Month had its origins in 1927, when a group of "speech correctionists," as they were called then, selected the spring month of May to symbolize the new life that speech treatment could give. The emphasis later expanded to increase public awareness of other communication disorders.
[LDN]