NEWS
Today's Top Stories
Sports Talk
PEOPLE
COMMUNITY
ENTERTAINMENT
FEATURES
The Arts
REVIEWS
EDITORIAL
COMMENTARY
ADVERTISEMENT
LDN is best viewed with
Internet Explorer 5.0.
Lincoln, IL
posted daily aT NOON (CDT)
TEACHING & LEARNING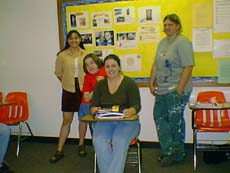 LCHS
journalism class
publishes in cyberspace
[MAY 10, 2000] When the Lincoln Daily News published its first edition at the end of January, some people thought it was the first online newspaper in the area. But that honor goes to the Railer Review, the online newspaper of Lincoln Community High School's journalism class, which beat LDN into cyberspace by 14 months.
---
ORGANIZATIONS & EVENTS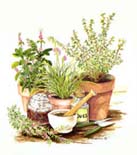 Herb guild finds thyme to get together
[MAY 10, 2000] The last Tuesday of each month, a group of women gather in the Jefferson Street Christian Church to indulge their senses, greet friends, further their education and share their passion. The source of all their
interest is herbs.
---
[MAY 10, 2000] If you saw an LDN writer driving around in Hartsburg counting buildings, now you can see the results.
---