NEWS
Today's Top Stories
Sports Talk
PEOPLE
COMMUNITY
ENTERTAINMENT
FEATURES
The Arts
REVIEWS
EDITORIAL
COMMENTARY
ADVERTISEMENT
LDN is best viewed with
Internet Explorer 5.0.

Lincoln, IL
posted daily aT NOON (CDT)
TOP STORIES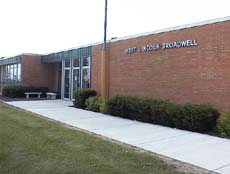 The search
is over
Romberg named superintendent/principal
for West Lincoln Broadwell
[MAY 12, 2000] At a special meeting last night, the West Lincoln Broadwell School Board selected Dorothy Romberg to take the reins as superintendent/principal. The decision was by a vote of 6-0 with 1 absent. Romberg will take the position being vacated by Dr. Kay Verstraete, who has held the position for the past four years. Romberg signed a three-year contract at the conclusion of last night's meeting. Her salary will be $72,000 per year plus benefits.
---
TEACHING & LEARNING

LCS to honor
Dr. Wayne Shaw
[MAY 12, 2000] Lincoln Christian Seminary, along with family and friends, will honor Dr. Wayne Shaw for his 34 years of service at 7 p.m. tonight in the Earl C Hargrove chapel on the campus of Lincoln Christian College and Seminary. After 26 years as the academic dean of the Seminary, Dr. Shaw will step into the role of Dean Emeritus July 1. I asked Dr. Shaw to look back and share with me the history of the vision with which he lives.
---
ORGANIZATIONS & EVENTS
Mount Pulaski Historical Society preserves
the past
[MAY 12, 2000] The people of Mount Pulaski are proud of their heritage. They have recruited volunteers to keep their historic courthouse site open, and they have also established a Historical Museum and Research Center to tell the story of their town and the rest of southeastern Logan County.
---
[MAY 12, 2000] The number of American households on the Internet grows each day. Many American businesses large and small are learning that if they want to communicate with and market to their newly occupied customers, then they must also have an online presence. Several Logan County businesses have recognized the potential of e-commerce and are willing to share their stories with others.
---