NEWS
Today's Top Stories
Sports Talk
PEOPLE
COMMUNITY
ENTERTAINMENT
FEATURES
The Arts
REVIEWS
EDITORIAL
COMMENTARY
ADVERTISEMENT
LDN is best viewed with
Internet Explorer 5.0.

Lincoln, IL
posted daily aT NOON (CDT)
TEACHING & LEARNING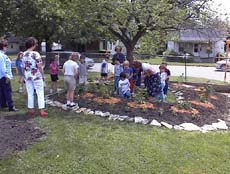 Students
grow with
gardening project
[MAY 15, 2000] The students at Jefferson Elementary School are getting a firsthand education about nature with their very own butterfly garden. The school, attended by 100 kindergarten through third grade students, was awarded a $500 grant last fall from the county for a gardening project, which is one of the first of its kind in the area.
---
BOOK LOOK


"Strong Women,
Strong Bones"
[MAY 15, 2000] In her new book "Strong Women, Strong Bones," Dr. Miriam Nelson defines osteoporosis as "a chronic, progressive disease characterized by low bone mass, leading to bone fragility and increased fracture risk." Each year, according to Dr. Nelson, millions of women suffer symptoms that they don't always associate with fragile bones. Her work in nutrition and physical science has inspired her to write an encompassing, all-in-one guide that outlines the ways that you can prevent, treat and beat osteoporosis.
---
LCC&S graduates announced
[MAY 15, 2000] Approximately 154 students graduated from Lincoln Christian College and Seminary Saturday. Commencement was at 10 a.m. in the Earl C Hargrove Chapel on the LCCS campus. Dr. Wayne Shaw, LCS academic dean, addressed the crowd on the topic "Integrity of the Message and Integrity of the Messenger." Following is a complete list of LCCS graduates.
---