NEWS
Today's Top Stories
Sports Talk
PEOPLE
COMMUNITY
ENTERTAINMENT
FEATURES
The Arts
REVIEWS
EDITORIAL
COMMENTARY
ADVERTISEMENT
LDN is best viewed with
Internet Explorer 5.0.

Lincoln, IL
posted daily aT NOON (CDT)
TOP STORIES

Field trips bring children to Lincoln
[MAY 17, 2000] If you think there are a lot more school buses in town this week than usual, you're right. It's field trip time, and a growing number of schools in the area are making Lincoln a destination. Thressia Usherwood, executive director of the Tourism Bureau of Logan County, is getting so many requests she's having a hard time scheduling everyone who wants to come.
---
ORGANIZATIONS & EVENTS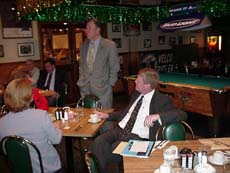 Madigan and Turner speak
at Chamber breakfast
[MAY 17, 2000] Sen. Bob Madigan and Rep. John Turner spoke this morning to business men and women at the Chamber of Commerce monthly breakfast mixer. The senator and representative presented a wrap-up of legislation at the close of the spring session and addressed how it will affect businesses in Lincoln and Logan County.
---
[MAY 17, 2000] The invention of paper made an incredible impact on the world. Prior to paper, most writing was done on animal hides (lambs and sheep). These materials, vellum and parchment, were too expensive, too heavy and too bulky to allow for lengthy manuscripts, and too difficult to handle to give rise to what we currently know as books, newspapers and magazines. With the invention of the printing press came the discovery of the Chinese principles of papermaking, and voila, widespread publishing became possible. The world since has had this ongoing romance with the printed word. But technology continues to explore alternative ways to do everything. Why the current trend toward electronic publishing when the world at large is in love with the printed word on paper?
---
LAW & COURTS

Police reports
[MAY 17, 2000] Law and Courts lists the latest reports from the Lincoln City Police Department and the Logan County Sheriff's Department. All citizens listed in the police reports are innocent until proven guilty by a court of law. The Lincoln Daily News does not list the names or exact addresses of individuals, unless convicted and over the age of 21. Listings include police reports, marriage licenses and dissolutions, and weekly court reports.
---