NEWS
Today's Top Stories
Sports Talk
PEOPLE
COMMUNITY
ENTERTAINMENT
FEATURES
The Arts
REVIEWS
EDITORIAL
COMMENTARY
ADVERTISEMENT
LDN is best viewed with
Internet Explorer 5.0.

Lincoln, IL
posted daily aT NOON (CDT)
A DAY IN THE LIFE...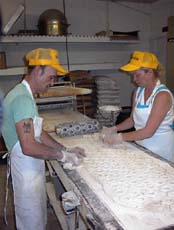 Mel-O-Cream Donuts:
A local tradition
[MAY 31, 2000] Carl Meyer started more than a business 36 years ago when he opened his doors at Mel-O-Cream Donuts in January of 1964. He started a tradition, not only for patrons, but apparently for employees also.
---
TOP STORIES

Vandalism reported at Elkhart business
[MAY 31, 2000] The Elkhart crime-stopping unit is offering a $200 reward for information leading to the arrest and conviction of those responsible for the recent vandalism to Miss Jessie's Art and Frame Gallery, 103 Gov Oglesby in Elkhart. Miss Jessie's was vandalized on the evening of Monday, May 29. Rocks were thrown through the double-pane windows, damaging a limited edition print and frame and destroying the entire front window of the gallery.
---
the em space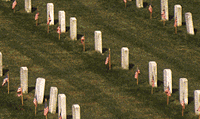 Cemetery connections
[MAY 31, 2000] Whether memorably chilly or seasonably warm for the beginning of summer activities, the Memorial Day weekend just past has acquired many connections besides the original intent to honor soldiers who died in the Civil War. Trips, picnics, sporting events and other recreational activities join or overshadow the more solemn observances. Still, to pick just one word, I associate Memorial Day with cemeteries.
---
ORGANIZATIONS & EVENTS


Main Street Lincoln announces summer concert series
[MAY 31, 2000] Main Street Lincoln's annual Concerts in the Park series is set to begin the first Sunday in June and continue through the end of July. The free concerts begin at 7 p.m. in Latham Park, north of the courthouse square in downtown Lincoln. The city of Lincoln, Lincoln Area Music Society and Main Street Lincoln are underwriting the event.
---
---
Anyone who subscribes can place one happy ad –
free! If you refer two new subscribers (and you need to be a registered subscriber yourself), then you get one free classified ad.