NEWS

PEOPLE
COMMUNITY
ENTERTAINMENT

FEATURES
The Arts
REVIEWS
EDITORIAL
COMMENTARY
ADVERTISEMENTS

Register your name among the many others with the LDN User Registration!
CONTACT US
LDN is best viewed with
Internet Explorer 5.0.
posted daily OVER THE NOON HOUR (CDT)

---
A Peek inside a hotly-debated issue
District 27 opens the doors of Central School and LJHS for public tours
[NOV. 4, 2000] I went on a tour of Central School and LJHS last night as a purely curious newcomer to Lincoln. I left as an alarmed citizen.
---


[click here for top stories for the day from around the world]
---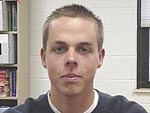 The question is...
[NOV. 4, 2000] Why do teens drop out of school, and what might keep them in school until graduation?
---
Review of Barbara Burkhardt's speech at Lincoln College
Evolution of narrative voice distinguishes the writings of William Maxwell
[NOV. 4, 2000] What distinguishes Lincoln native William Maxwell from all other authors, according to biographer Barbara Burkhardt, is his revelation of how perceptions can evolve while the core experiences on which they are based remain constant. Over a literary lifetime of more than six decades, Maxwell's most frequent topic was his response to the death of his mother from Spanish influenza when he was 10. The consistent focus brings out changes in interpretation and style.
---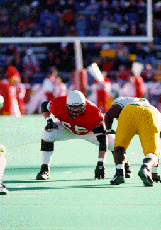 SPORTS TALK
Jeff Mayfield interviews Andy King
Former LCHS player now king of the ISU
trenches
Part 2
[NOV. 4, 2000] The last few weeks the LDN has been taking an up-close-and-personal look at former Railer athletes that are now engaged in collegiate athletic warfare. One such performer is former Railer lineman Andy King. Andy now occupies the left tackle position for the Illinois State Redbirds. After a slow start, the Redbirds have won three in a row and still plan to make some noise in their final three games of the year. Andy credits coach Renner and his staff in Lincoln for creating a don't-quit, never-say-die attitude that forged itself into an expectancy of winning all the time. Last year that virtually happened, as the Redbirds advanced all the way to a 1-A national semifinal berth. The LDN recently spoke with Andy via the telephone from his Bloomington apartment…
---
Angels on fire
[NOV. 4, 2000] Lincoln Christian College Angels are burning up the West Coast at the National Christian College Athletic Association II volleyball playoffs in Redding, Calif. They won all of their first three playoff matches.
Lincoln Christian Preachers and Angels Basketball teams open season
[NOV. 4, 2000] Lincoln Christian men's and women's basketball teams opened their season at the Kentucky Christian Classic Tournament Friday.
The Preachers fell to Kentucky Christian, 99-55. They play Temple Christan at 1 p.m. today (Saturday).
The Angels tumbled in an 84-27 loss.
---
---
Former Lincoln resident responds to letter from Guy Jackson about anti-ballistic missile defense system
"Once-In-Our-Lifetime"
Professional laborer speaks on school issue
---

Sample election forms
---
Grand opening of Alzheimer's unit
at Christian Village
[NOV. 4, 2000] The Christian Village invites you to attend the grand opening of their new Alzheimer's disease unit on Sunday, Nov. 12, from 2 to 4 p.m.
Mason City Antique & Collectible Road Show-Fair scheduled for Nov. 18
[NOV. 4, 2000] The first-ever Antique & Collectible Road Show-Fair for Mason City will be from 10 a.m. to 2 p.m. on Saturday, Nov. 18, in the downtown Civic Center, located at 120 N. Main St. The public is encouraged to bring glassware, guns, jewelry, porcelain, furniture, coins, toys and dolls, as experts in each of these fields have been invited to share their knowledge. The show, patterned after popular PBS and HGTV shows, will be sponsored by the Mason City Historical Society in celebration of the first anniversary of their new museum, also located at 120 N. Main St.
---
Court reports
[NOV. 4, 2000] The Law and Courts page includes weekly court reports, marriage licenses and dissolutions. The Lincoln Daily News does not list the names of the individuals unless convicted and age 18 or older.
---
---
World/national news coverage
---
Hear it here!
The Faks Machine: Mike Fak and Jim Ash host a community call-in show. Their show airs on Lincoln Daily News over the Media One link every Wednesday night beginning at 7 p.m.
---