posted daily OVER THE NOON HOUR (CDT)

---
Going to state!
Lady Railers win supersectional
[NOV. 6, 2000] The Lincoln Lady Railers advanced to the state tournament with a convincing 15-5 and 15-6 supersectional win over the Potters from Morton. The victory propels the Lady Railers into the state tournament for the first time since 1993.
---
Hear it here!
Election results on Tuesday: Hear election results on Lincoln Daily News via the Media One link on Tuesday evening at approximately 7:30 p.m.
---
Mount Pulaski volleyball season
ends in Macomb
[NOV. 6, 2000] The Mount Pulaski High School volleyball team finished their season on Saturday evening in Macomb. Colchester won 15-11 and 15-11.
Swimming results: LC vs. Principia
[NOV. 6, 2000] Lincoln College's men's and women's swim team raced against Principia College on Saturday, here in Lincoln. Principia College's ladies beat Lincoln 131-45, but Lincoln College's men beat Principia 141-42.
---
Updates, updates, updates!!!
Sports news briefs
[NOV. 6, 2000] Jeff Mayfield updates us on Andy King, Steph Reichle, LCC's trip to national volleyball competition, the Illini win over Indiana and the Bears' upset of the Colts.
---
---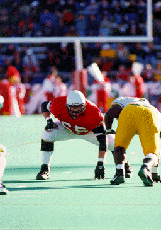 SPORTS TALK
Jeff Mayfield interviews Andy King
Former LCHS player now king of the ISU
trenches
Part 3
[NOV. 6, 2000] The last few weeks the LDN has been taking an up-close-and-personal look at former Railer athletes that are now engaged in collegiate athletic warfare. One such performer is former Railer lineman Andy King. Andy now occupies the left tackle position for the Illinois State Redbirds. After a slow start, the Redbirds have won three in a row and still plan to make some noise in their final three games of the year. Andy credits coach Renner and his staff in Lincoln for creating a don't-quit, never-say-die attitude that forged itself into an expectancy of winning all the time. Last year that virtually happened, as the Redbirds advanced all the way to a 1-A national semifinal berth. The LDN recently spoke with Andy via the telephone from his Bloomington apartment…
---
What makes him howl!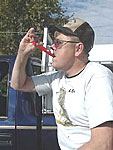 Lincoln man Les Wood is
"self-taught coyote professional"
Part 1
[NOV. 6, 2000] Les Wood is hooked on coyotes.
---
More about anti-ballistic missile defense system
Nader spoilage and the teetering environment
---
Zimmerman to give sax recital in Bloomington
[NOV. 6, 2000] Saxophonist Keith M. Zimmerman, with William R. West, pianist, will present a free faculty recital at 8 p.m. on Thursday, Nov. 16, in Westbrook Auditorium of Presser Hall at Illinois Wesleyan University in Bloomington. Until late May of this year, Zimmerman directed the wind ensemble and the jazz band at Lincoln's District 27 schools for 33 years.
---
Flu vaccine now available to everyone
[NOV. 6, 2000] Logan County Health Department has received a large shipment of flu vaccine and is offering flu shots immediately on a walk-in basis at the Logan County Health Department office at 109 Third St. in Lincoln. Flu shots are available between 8 a.m. and 4:30 p.m. At this time the flu shots are available to everyone. No physician's order is required unless the recipient is under the age of 18.
Public invited to 'Diabetes Dialogue'
[NOV. 6, 2000] Do you have diabetes or know someone who does and want more information? Do you experience unusual thirst? Have you experienced a sudden weight loss? Do you struggle with fatigue? These may be signs of diabetes.
---
Ornaments for county Christmas tree
are welcomed
[NOV. 6, 2000] The Logan County Christmas tree in the Logan County Courthouse rotunda is being sponsored by Logan County residents again this holiday season. The 18-foot tree is displayed annually from Thanksgiving weekend (Nov. 24 this year) through the holiday season. Creative ornaments may be donated to represent churches, businesses, families, schools, service clubs and organizations.
Senior citizens plan chili supper
for parade night
[NOV. 6, 2000] The Senior Citizens of Logan County Inc. will host their annual chili supper at The Oasis Senior Center, 501 Pulaski Street in Lincoln, on Thursday, Nov. 30. This is the same night as the downtown Christmas parade. Serving hours are 4 to 7 p.m.
---

Sample election forms
---


[click here for top stories for the day from around the world]
---
World/national news coverage
---
Hear it here!
The Faks Machine: Mike Fak and Jim Ash host a community call-in show. Their show airs on Lincoln Daily News over the Media One link every Wednesday night beginning at 7 p.m.
---