For the best part of an hour Saturday afternoon at Mount Pulaskiís Courthouseís 1850s Open House, Don Russell, Springfield actor and director, portrayed "just plain Billy Brown," an ordinary man who knew Abe Lincoln. Russell gave so convincing a performance that some folks in the audience admitted to having tears in their eyes when "Billy" talked about Lincolnís death: "He wasnít going to be coming home. He wasnít going to sit in a chair in my store again."
The Billy Brown character was created by author Ida Tarbell in her "History of Abraham Lincoln." Brown was part fact, part fiction, Russell explained, though there was a real William Brown who ran a store in Springfield and no doubt knew Lincoln.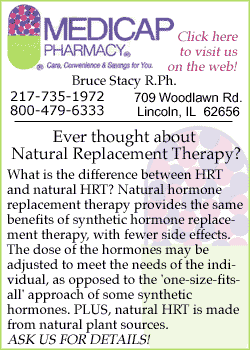 In one of Billyís stories, Abe Lincoln the lawyer was in the courtroom when Judge David Davis of Bloomington, an old friend and fellow circuit rider, was presiding. Lincoln had told a story that had the whole courtroom laughing, and Davis was so annoyed he fined Lincoln five dollars for disturbing the court. A few minutes later, when the story finally got around to Davis, the judge burst out laughing, too. Then he remitted the fine.
Billy thought at first folks were making fun of Abe when they suggested he run for the highest office in the land, because he didnít look anything like George Washington or Tom Jefferson. But Abe didnít put on any airs after his nomination. "He looked just same. No struttiní around.
"Yes, I knew Abraham Lincoln. I knew him well. There was never a better man made. He just suited me," Billy concluded.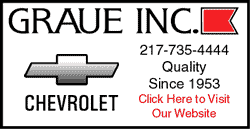 The courthouse itself, one of the few places left where visitors can stand in a courtroom where Lincoln practiced law, added to the feeling of stepping back in time, with its two wood stoves, six-over-six window panes, candles in the chandeliers and hard wooden benches.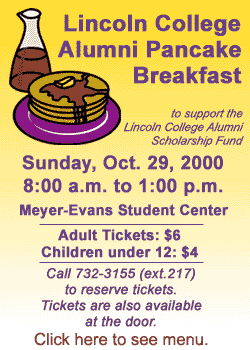 Music and musical instruments of the time when Lincoln lived, and of much earlier times too, were also on Saturdayís program. Performer and luthier (maker of stringed instruments) Dale C. Evans of Bloomington played instruments that were popular in the1800s, such as the hammered dulcimer and the mountain dulcimer, and one unusual music-maker that came along a little later.
A hurdy-gurdy that Evans himself built, played by turning a wheel and picking out a tune on a keyboard, created a sound that reminded some in the audience of a bagpipe. Also called a barrel organ, the hurdy-gurdy was the first instrument to use a keyboard. Dating back to early medieval times, it was not only the predecessor of all keyboard instruments, Evans told the audience, it was also the ancestor of todayís computer.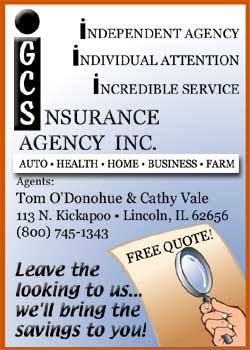 Evans also played an unusual instrument that was popular in the early part of the 20th century, a Ukelin. This box-like instrument is played using both a bow and a pick. The melody, played by the bow, is accompanied by chords played with the pick. Evans said Ukelins were made by a Michigan company and sold door-to-door, and a Ukelin teacher would follow up later to give customers a few lessons. Now these instruments are usually found only at flea markets, he said, and most people donít know what they are or how to play them.
These "folk" instruments, dulcimers and others, were popular in the days before radio or television, when people stayed home and made their own music. "Homemade music is like homemade biscuits," Evans told the audience. "Thereís something special about it."
More homemade music will be part of the Dec. 2 Christmas Open House at the Mount Pulaski Courthouse, said Richard Schachtsiek, site manager. The courthouse will be open from noon to 8 p.m., and Judy Schmidt of Canton, Mo., will give concerts on the hammered dulcimer at 3 and 6 p.m.
Kiya was born three months premature on Sept. 22. She is suffering from brain hemorrhage and hydrocephalus.
The benefit auction will include two plane rides for two over the Lincoln area, crafts, limousine ride, half of a processed hog, NASCAR collectibles and much more.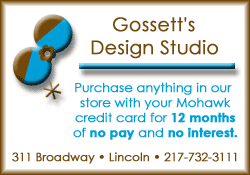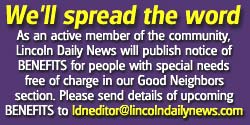 [to top of second column in this article]
There will be a raffle for one-half hog, a 50/50 drawing, bake sale and entertainment.
Food will be catered from Water Street Catering.
All tickets will be available at the door.
Donations may also be made at Logan County Bank, 303 Pulaski St., Lincoln, IL 62656.
Entertainment is scheduled from 3 to 5 p.m., with The Highland Guard Bag Pipers from 3 to 3:30 p.m. and bluegrass by Stone County Ramblers from 3:30 to 5:30 p.m.
An auction conducted by Mike Maske begins at 5:30 p.m.
Dinner will be served from 3 to 7 p.m., including chili or vegetable soup, hot dog or barbecue, chips, dessert and drink.
There will be a 50/50 drawing and raffle.
Raffle prizes:
One week at Sunterra Resorts in Branson, Mo.; donated by Linda Serra
30 yards carpet, pad and installation up to $500; donated by Tome Serra
Hot air balloon ride; donated by Jim and Nancy Ireland
[to top of second column in this article]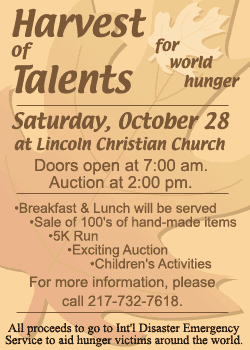 Dancing is from 8 p.m. to midnight.
Tickets are $5.50 for adults and $3.50 for children under 12.
Financial assistance is being provided by Aid Association for Lutherans.
For advance tickets, donations or information contact Bob Hashman, 732-6353, or Linda Serra, 544-4744.