NEWS

PEOPLE
COMMUNITY
ENTERTAINMENT

FEATURES
The Arts
REVIEWS
EDITORIAL
COMMENTARY
ADVERTISEMENTS


Register your name among the many others with the LDN User Registration!
CONTACT US
LDN is best viewed with
Internet Explorer 5.0.
posted daily OVER THE NOON HOUR (CDT)

[click here to see more local Election Day photos]
---
Saturday is Veterans Day
Logan County will honor veteran's in a ceremony at Logan County Courthouse tomorrow morning starting at 10 a.m. The Lincoln Community High School Band will play first followed by a Veteran's Day Service beginning at 10:30. Activities will be located on the Northside of the Courthouse.
---
Three days past election,
still no new president chosen
"It's Bush, It's Gore, Oh we give up!" headline from
the London Times
[NOV. 10, 2000] The news media is reporting that people in all parts of the country are up in arms about the results, and lack of results, from this presidential election. The citizens of Logan County should have a voice in this national discussion, and so, LDN is asking:
What is your opinion concerning this presidential election?
Send answers to ldn@lincolndailynews.com.
(Note: Your responses may be published.)
---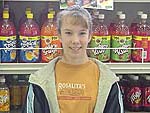 Local responses to
the election process
[NOV. 10, 2000]
L
DN asked several Lincoln residents about their opinion on the election process.
---

[click here for top stories for the day from around the world]
---

Alexander chooses Illinois State
[NOV. 10, 2000] After months of being courted by universities all over the country, Gregg Alexander officially signed his national letter of intent Wednesday to attend Illinois State University. Gregg appears to be relieved that the whole process is now behind him and he can settle back into school and leading the basketball Railers to another outstanding season.
LC women take 89-88 victory
in basketball opener
[NOV. 10, 2000] Katie Skaggs hit two free throws with 11 seconds remaining to give the Lincoln College women an 89-88 victory in the season opener against Carl Sandburg at Galesburg Thursday night.
LC men bring home 75-54 victory
over Carl Sandburg
[NOV. 10, 2000] Lincoln College evened its men's basketball record with a 75-54 victory over Carl Sandburg Thursday night in Galesburg. The Lynx are now 1-1 on the season.
A look at LC men's basketball team
[NOV. 10, 2000] A good nucleus of returning sophomores gives Lincoln College men's basketball coach B.J. McCullum high hopes for this season. The Lynx have six returning lettermen and two sophomore transfers to build around.
---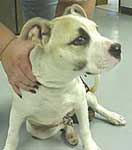 HOME AND FAMILY
Animals for adoption
---
Lincoln College student earns
Lincoln Academy honor
[NOV. 10, 2000] Brittney Dobson, a sophomore at Lincoln College, has been named Student Laureate to the Lincoln Academy, a private, non-profit organization established to honor Illinois citizens whose contributions have brought honor to the state.
---
Vineyard Cafe hosts open microphone night
[NOV. 10, 2000] On Saturday, Nov. 18, the Vineyard Cafe, a Christian-based coffeehouse, will host an open microphone night for performance artists. Doors will open at 7 p.m.
---
November Red Cross classes scheduled
[NOV. 10, 2000] The American Red Cross will have a challenge class for people who wish to be recertified in CPR. It will be on Saturday, Nov. 25. A community first aid and safety class will be on Nov. 29 and 30. This class will cover adult CPR, infant and child CPR, and first aid.
Shriners to have pre-screening clinic
at Masonic Lodge
[NOV. 10, 2000] Shriners hospitals are dedicated to providing treatment for needy children. The Shriners are hosting a local pre-qualifying clinic from 9 a.m. to noon on Saturday, Dec. 16, for children newborn to 18 years of age. Children can be brought to the off-premises clinic at the Masonic Lodge, 2022 N. Kickapoo St., for evaluation.
Tickets for drawing are available from Shriners
[NOV. 10, 2000] Logan County Shriners are having an opportunity drawing.
---
Hear it here!
The Faks Machine: Mike Fak and Jim Ash host a community call-in show. Their show airs on Lincoln Daily News over the Media One link every Wednesday night beginning at 7 p.m.
---
World/national news coverage
---