NEWS

PEOPLE
COMMUNITY
ENTERTAINMENT

FEATURES
The Arts
REVIEWS
EDITORIAL
COMMENTARY
ADVERTISEMENTS


Register your name among the many others with the LDN User Registration!
CONTACT US
LDN is best viewed with
Internet Explorer 5.0.
posted daily OVER THE NOON HOUR (CDT)

---
Click here for news from other sources regarding the presidential election
---
Fund-raiser in progress
Safe House for women
to open in Lincoln
[NOV. 16, 2000] A shelter for women who are victims of domestic violence will open in the Lincoln area on Dec. 1, according to Lincoln Police Officer Diana Short. The For My Sister Safe House for Battered Women is a place where a woman can go to be protected, collect her thoughts and think about the next step she needs to take, Short said. The woman may stay at the Safe House several days or longer if necessary.
District 27 sets policy
for home-schooled students
[NOV. 16, 2000] Should students who are home schooled be allowed to participate in extracurricular activities? That question occupied members of the School District 27 board at their regular meeting Wednesday evening. After some discussion, the board agreed that home-schooled students who also attend District 27 classes for half a day, not including lunch, will be eligible to participate in after-school activities, including athletics, music programs, scholastic bowl and drama.
---
GET YOUR CHRISTMAS CHEER GOING


Main Street Lincoln is calling all volunteers to decorate downtown Lincoln. Those interested should meet on the east side of the Logan County Courthouse beginning at 8 a.m. this Saturday, Nov. 18. Each historic light pole in the downtown area will be wrapped with evergreen garland and white lights and topped with a red velvet bow. In addition, selected trees on the courthouse lawn will be wrapped in white lights as well. More than 10,000 lights will shine brightly during the holiday season. Volunteers are encouraged to dress warmly and bring ladders; juice and donuts will be provided. The transformation should be complete by noon. For additional information, contact the Main Street Lincoln office at 732-2929.
---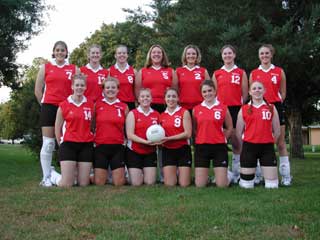 Jeff Mayfield interviews Kevin Crawford,
LCC volleyball coach
Part 3
LCC caps 30-win season
with a trip to nationals
National title dream eludes Angels
[NOV. 16, 2000] At one point earlier this season, the Lincoln Christian College women's volleyball team had a record of 10-6. It did not appear at that point that the Angels were going to make a serious bid at another national title. However, an incredible metamorphosis took place, and LCC put together an amazing run that resulted in a 30-9 record, a second-place finish at regionals, an at-large bid to the national tournament and a trip to have some fun in the sun in Redding, Calif.! The LCC ladies became a true epitome team with different stars and leaders showing up on different nights. I met with LCC coach Kevin Crawford (who the LDN believes is one of the best small-college coaches of any sport) in my office as he was shaking off the effects of jet lag.
Illini hoop team ready to
examine its Self
By Jeff Mayfield
[NOV. 16, 2000] Brian Cook and the U of I men's basketball team are ready to begin a new era of Illini basketball. Under the hard-driving direction of new head coach Bill Self, Illinois will do just that in the Assembly Hall this weekend. The first game matches the Fighting Illini with the Black Bears of Maine. No one is quite sure how good the Illini can be, but look at these poll results. The AP writers tab us as the eighth-best team in the country. The coaches' poll lists us as No. 9 in all the land, and now Sports Illustrated has probably cursed us more than it's helped us by ranking us No. 4 in the nation. This week the LDN gives a short overview of the upcoming season. In the days ahead we'll also give you loyal readers an outlook on the Lincoln Railers' upcoming season as well. This is my favorite time of the year. Let the games begin!!!
---
Committee did a good job handling current street repair projects
---
Opportunities to learn about IMSA
[NOV. 16, 2000] Located in northern Illiinois, Illinois Mathematics and Science Academy offers a rigorous residential educational program for Illinois students in grades 10 through 12. There are currently two special opportunities to learn more about the program: local informational meetings and "Saturday Live," a visit to the campus located in northern Aurora.
---
Hear it here!
The Faks Machine: Mike Fak and Jim Ash host a community call-in show. Their show airs on Lincoln Daily News over the Media One link every Wednesday night beginning at 7 p.m.
---

[click here for top stories for the day from around the world]
---
World/national news coverage
---