NEWS

PEOPLE
COMMUNITY
ENTERTAINMENT

FEATURES
The Arts
REVIEWS
EDITORIAL
COMMENTARY
ADVERTISEMENTS


Register your name among the many others with the LDN User Registration!
CONTACT US
LDN is best viewed with
Internet Explorer 5.0.
posted daily OVER THE NOON HOUR (CDT)

---
You're invited
Dressing up our town for the holidays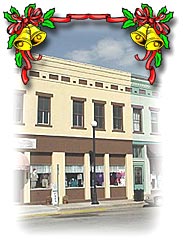 Main Street Lincoln is calling all volunteers to decorate downtown Lincoln. Those interested should meet on the east side of the Logan County Courthouse beginning at 8 a.m. this Saturday, Nov. 18. Each historic light pole in the downtown area will be wrapped with evergreen garland and white lights and topped with a red velvet bow. In addition, selected trees on the courthouse lawn will be wrapped in white lights as well. More than 10,000 lights will shine brightly during the holiday season. Volunteers are encouraged to dress warmly and bring ladders; juice and donuts will be provided. The transformation should be complete by noon. For additional information, contact the Main Street Lincoln office at 732-2929.
---
Click here for news from other sources regarding the presidential election
---
County Board members
consider rezoning for
radio tower near Atlanta

Area residents speak in opposition to proposal

[NOV. 17, 2000]

A

packed room met Logan County Board members Thursday night as they sat down to discuss various issues they would be voting on at Tuesday night's monthly meeting.

'Town Hall Meeting'

A vote for Logan County

Teens, parents, city officials talk turkey

[NOV. 17, 2000] Wednesday night's town hall meeting gave Logan County residents an opportunity to air their views on what was wrong and right about their county. Merri Dee, the community relations director for WGN television, moderated the discusssion at Lincoln Community High School. The Alcohol, Tobacco and Other Drugs (ATOD) Task Force of the Healthy Community Partnership sponsored the event.
---

LC wrestles at double dual in Iowa

[NOV. 17, 2000]

Matt Veach continued his winning ways for the Lincoln College wrestling team Thursday by winning two matches. Veach, however, was one of the lone bright spots for coach Dave Klemm, as the Lynx lost a dual meet to Ellsworth Community College, 39-8; and lost to Iowa Central, 38-3. The double dual meet was at Fort Dodge, Iowa.

2000-2001 season

Illini men's basketball outlook

By Greg Taylor

[NOV. 17, 2000] The Illinois basketball team enjoyed a very good season last year, but many fans viewed the year with some amount of disappointment. Why? Because preseason expectations from both the media and central Illinois fans were sky high. Viewing last year objectively, it is really difficult to not see great progress on many fronts. Illinois welcomed three new starters (Lincoln's Brian Cook, Frank Williams and Marcus Griffin) and also played one of the most challenging schedules in the country. Illinois enjoyed a few strong stretches last season but was never able to establish a consistent level of play. However, Illinois is being tabbed by many experts to have a phenomenal season on the hardwood, and expectations for the 2000-2001 are already sky high.
---
Fall awards at Hartsburg-Emden High
and Junior High
[NOV. 17, 2000] Click below for a list of awards received recently by Hartsburg-Emden students participating in high school volleyball, golf and cross-country, and in junior high baseball and softball.
---
---
Hear it here!
The Faks Machine: Mike Fak and Jim Ash host a community call-in show. Their show airs on Lincoln Daily News over the Media One link every Wednesday night beginning at 7 p.m.
---

[click here for top stories for the day from around the world]
---
World/national news coverage
---