posted daily OVER THE NOON HOUR (CDT)

---
Click here for news from other sources regarding the presidential election
---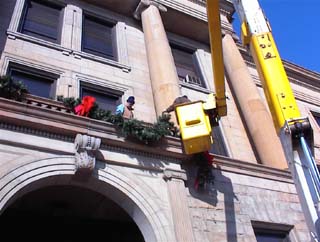 Logan County Court House decked in garland as downtown Saturday morning Christmas decorating takes place
---
Committee discusses
recycling costs, options
[NOV. 18, 2000] The Logan County Waste Management Committee met Wednesday evening and discussed various ways that could be explored in order to cut expenses in the current state-mandated recycling program.
---
ALERT!!
Gerber Baby Food Savings Bond
(http://www.gerber.com)

CAUTION!! A note has been sent home with school children indicating that a class action law suit against Gerber has been settled and children born within a specific time frame are eligible for a $500 Savings Bond. Parents are asked to send a copy of their child's birth certificate and social security number.

A check at the Gerber Web Page indicates that this is a fake! FBI agents are monitoring the P.O. Box and returning the letters unopened. Criminals are selling these birth certificates and social security numbers to aliens to enable them to enter the U.S.

Please do not send your child's birth certificate or social security number to anyone!!
---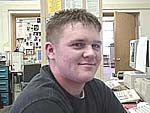 The question is...

[NOV. 18, 2000]

L

ooking back on your high school career, would you prefer a nine- or 12-month school year?
---

Cook, Illini give Self first victory
By Jeff Mayfield
[NOV. 18, 2000] Though Brian Cook and his Illinois teammates got off to a sluggish start, once they got rolling it all added up to an 86-57 win over the Black Bears of Maine. Coach Bill Self became the 13th head coach in Illini history to become victorious in his career opener. In fact, Illinois head coaches are 13-2 in all-time career openers. As for Cook, he started off rather slowly as he did not score until the contest was 12 minutes old. He did not get very many first half touches and by the break had registered 5 points on 2 of 4 shooting to go along with 2 rebounds.
---
Animals for adoption
---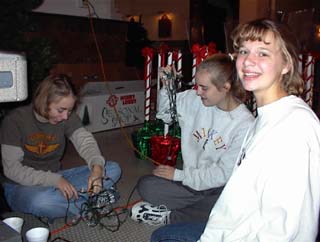 Volunteers get into the spirit of the
season decorating downtown Lincoln
---

Steffens exhibits winner in sheep show

[NOV. 18, 2000]

A

aron Steffens of rural Lincoln exhibited the Junior Champion Ewe in the National Open Hampshire Show of the North American International Livestock Exposition in Louisville, Ky.
---

Court reports
[NOV. 18, 2000] The Law and Courts page includes a new set of weekly court reports, marriage licenses and dissolutions. In court reports, the Lincoln Daily News does not list the names of the individuals unless convicted and age 18 or older.
---
Celebrating America Recycles Week

Buying recycled is key to recycling success

[NOV. 18, 2000] The average American generates nearly 1,500 pounds of trash each year, creating more than 200 million tons of waste annually in the United States. However, because more Americans are recycling, the nation's recycling rate is now more than 28 percent. This means the steel, aluminum, paper, glass and plastic we place at curbside or drop-off sites are really making a difference in reducing our nation's waste.

2000 Festival of Trees has new features


[NOV. 18, 2000]

T

he fifth annual Festival of Trees will be Saturday, Nov. 24, through Sunday, Dec. 3, in the historic Logan County Courthouse in downtown Lincoln.
---
---
Hear it here!
The Faks Machine: Mike Fak and Jim Ash host a community call-in show. Their show airs on Lincoln Daily News over the Media One link every Wednesday night beginning at 7 p.m.
---


[click here for top stories for the day from around the world]
---
World/national news coverage
---