NEWS

PEOPLE
COMMUNITY
ENTERTAINMENT

FEATURES
The Arts
REVIEWS
EDITORIAL
COMMENTARY
ADVERTISEMENTS


Register your name among the many others with the LDN User Registration!
CONTACT US
LDN is best viewed with
Internet Explorer 5.0.
posted daily OVER THE NOON HOUR (CDT)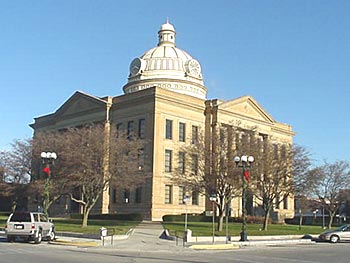 Logan County Courthouse
---
Click here for news from other
sources regarding the presidential election
---
City Council report
Street plans, student programs on agenda
[NOV. 21, 2000] Several topics relating to streets and improvements were addressed at Monday evening's meeting of the Lincoln City Council.
Parades come to Mason City Dec. 3
[NOV. 21, 2000] Yes, Mason City will be the place to enjoy the Christmas spirit. Sunday evening Dec. 3, the annual Parade of Lights will again twine its way through the streets of town. Many entries are expected to be all aglow as they walk, ride and bike along the parade route.
---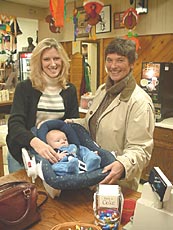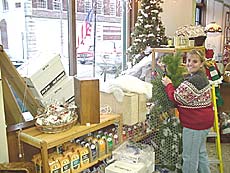 [Local businesses prepare for the holidays, this scene is from Abe's Caramel Corn]
---

Sports news updates
[NOV. 21, 2000] Lincoln's boys basketball Railers opened their season with 62-43 victory over Bartonville-Limestone. In Maui, Brian Cook registered a double-double, finishing with 12 points and 14 rebounds, and fellow teammate Frank Williams scored 22 points as the Illinois Fighting Illini erased a 14-point first-half deficit to beat Nevada-Las Vegas 74-69.
LCHS vs. Limestone statistics
Mount Pulaski vs. Bethany
[NOV. 21, 2000] Bethany High Schoolís womenís basketball team traveled to Mount Pulaski to compete against Mount Pulaskiís players. Mount Pulaski more than doubled Bethanyís score in the first quarter but lost the lead in the second quarter. The final score of the game was Bethany 59, Mount Pulaski 42.
LC women split weekend basketball games
[NOV. 21, 2000] Lincoln College split a pair of women's basketball games at the Lincoln College gym this past weekend. Lincoln began the weekend with an 82-54 trouncing of Morton Cicero and then lost a tough 80-75 game to Lincoln Trail in overtime. The overtime loss is the first defeat this season for the Lady Lynx, now 4-1 on the season. Lincoln Trail improved its record to 3-3.
---

---
---
Students see Frilly and Miller Show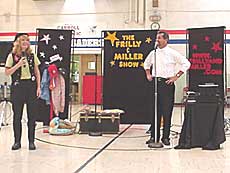 [NOV. 21, 2000] Yesterday morning, the students at Carroll Catholic School were the first in town to view the Frilly and Miller Show. Lincoln Police Department sponsored the show, so that between yesterday and today all of the Lincoln District 27 schools will also get to participate in the Frilly and Miller Show. During the shows, Frilly and Miller use their own music to teach students how to build character and resolve conflicts.
---
District 27 Board Scholars named

[NOV. 21, 2000]

E

ight students in Lincoln Elementary School District 27 were named Board Scholars for the first nine-week period. Board Scholars are those who earned all Aís, including physical education and band.

Washington-Monroe Schoolís Honor Roll

[NOV. 21, 2000] Click below for a listing of Honor Roll students for the first nine weeks at Washington-Monroe School .
---
Mason City DAR will meet Nov. 25
[NOV. 21, 2000] The Salt Creek Prairie Chapter, National Society Daughters of the American Revolution, Mason City, will meet at 2 p.m. on Saturday, Nov. 25, at the town fire station.
---
---
Railer Basketball
Sponsored by J&S Auto Center.

Railers open hoops season tournament continues tomorrow night Wednesday, November 22!
Hear it here!
---
Hear it here!
The Faks Machine: Mike Fak and Jim Ash host a community call-in show. Their show airs on Lincoln Daily News over the Media One link every Wednesday night beginning at 7 p.m.
---


[click here for top stories for the day from around the world]
---
World/national news coverage
---