NEWS

PEOPLE
COMMUNITY
ENTERTAINMENT

FEATURES
The Arts
REVIEWS
EDITORIAL
COMMENTARY
ADVERTISEMENTS


Register your name among the many others with the LDN User Registration!
CONTACT US
LDN is best viewed with
Internet Explorer 5.0.
posted daily OVER THE NOON HOUR (CDT)
| | |
| --- | --- |
| | The Festival of Trees opened Friday morning at the Logan County Courthouse. Admission is free, and guests can vote on their favorite creatively decorated large and small Christmas trees, wreaths and swags. The display is open from 8:30 a.m. to 7 p.m. Monday through Saturday and on Sundays from noon to 6 p.m. |
---
Click here for news from other
sources regarding the presidential election
---
City says 'no' to request
for culvert takeover
[NOV. 29, 2000] The Sewer and Drainage Committee of the Lincoln City Council gave a unanimous "no" vote to a proposal that the city take over, repair and maintain an eroding box culvert near Interstate 55 and Route 10-121. At a City Council work session Tuesday evening, Jay Jessen, member of the Springfield engineering firm of Greene and Bradford, representing Eugene Burwell as developer of the North Heitmann Park subdivision, asked the city to accept the problem 80-foot culvert.
A holiday night to remember
[NOV. 29, 2000] Warm colors, glowing lights, cheerful voices filled the Logan County Courthouse last evening as families, friends, couples roamed the halls in candlelight-led tours.
[complete story and link to picture pages]
Thursday night
Lincoln continues to
usher in the season
[NOV. 29, 2000] Holiday celebrations are well under way in Lincoln. The spirit continues Thursday evening, Nov. 30.
Holiday theft
[NOV. 29, 2000] Over the holiday weekend, a house on Westminster Drive was broken into.
---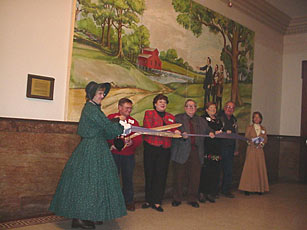 [Caroler, Dick Logan, Wendy Bell, Paul Gleason, Beth Davis, Lloyd Helman,caroler gather to cut ribbon at Logan County Court House Lloyd Ostendorf mural dedicaiton. Also present, but not in the picture from ALMH Karen Sanders]
---
'Hiking Illinois'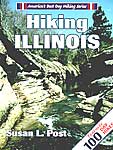 [NOV. 29, 2000] "Hiking Illinois" is one of the titles in the "America's Best Day Hiking Series" from publisher Human Kinetics. According to the introductory passage, "Each book in the series offers information on 100 or more of the most interesting and scenic trails in a particular state, as well as notes about recreational, historical, and sightseeing destinations located near the trails." The focus of the book on Illinois is short day hikes that range in degree of difficulty from easiest to most difficult.
---
Part 3
Decorating your Christmas tree
[NOV. 29, 2000] Just as fashion has changed through the years — from petticoats and corsets to bell-bottoms and platform shoes — so has the trimming of the Christmas tree.
---

LCHS girls vs. Springfield Southeast
Illini Central girls vs. Auburn
Illini Central boys vs. Athens
Olympia girls vs. Midwest Central
LCC Angels bag first win of the season
---
Thanks to local businesses from Jan Hashman
Lazy Row resident concerned with loss of farmland to 'progress'
---
Christmas concert at chapel on Elkhart Hill
[NOV. 29, 2000] On Saturday, Dec. 9, the historic Culver Stone Chapel on Elkhart Hill will host a Christmas benefit concert, featuring superb madrigal, Celtic harp and highlighted by lute selections played by Karl Scroggin.
Writers will meet
[NOV. 29, 2000] The Lincoln Writers' Club will meet from 6 to 8 p.m. Tuesday, Dec. 5, at the Lincoln Public Library.
---

---

---
---
Hear it here tonight!
The Faks Machine: Mike Fak and Jim Ash host a community call-in show. Their show airs on Lincoln Daily News over the Media One link every Wednesday night beginning at 7 p.m.
Sponsors:
Mitchell-Newhouse, Gleason's Dairy Bar, J&S Auto
---

[click here for top stories for the day from around the world]
---
World/national news coverage
---