posted daily OVER THE NOON HOUR (CDT)


New Holland's 125th anniversary celebration
---
Fall gardening projects
"Don't throw in the trowel yet"
[OCT. 2, 2000] Just because fall is fast approaching doesn't mean it's time to put away your garden tools. There are less hours of sunlight and temperatures are headed north, but there's still a lot of work that can be done in the garden.
---
Tomorrow morning, Oct. 3, drive through the Eighth Street parking lot at Abraham Lincoln Memorial Hospital between 7 and 9 a.m. for breast cancer information and breakfast.
---
Flu vaccinations will be delayed
Shortage of vaccine possible
[OCT. 2, 2000] Logan County Health Department will not be administering any flu vaccinations until November. Influenza flu manufacturers have told the Department of Health and Human Services' Food and Drug Administration (FDA) and the Centers for Disease Control and Prevention (CDC) to expect delays in flu vaccine shipments. There is also a possibility that there will be reductions of available influenza virus vaccine for the 2000-01 season.
---
LCCS to host Dr. James Sire on Oct. 3 and 4
[OCT. 2, 2000] Lincoln Christian Seminary is pleased to announce that Dr. James W. Sire will present the 2000 James D. Strauss Lecture Series, "Habits of the Mind: How Thinking Feels," at 9:30 a.m. and 7 p.m. on Tuesday, Oct. 3, and at 9:30 a.m. on Wednesday, Oct. 4. The morning lectures will be in the Earl C Hargrove Chapel, and the evening lecture will be presented in Room R-49 in Restoration Hall, both on the LCCS campus.
---
Lincoln College alumni group
plans Casino Night
[OCT. 2, 2000] The newly formed Lincoln College Alumni Committee is planning a Casino Night on Saturday, Oct. 21, in the Davidson-Sheffer Gymnasium on the campus of Lincoln College.
---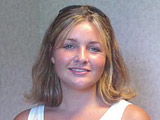 TEACHING & LEARNING
Watson is awarded Behrends Scholarship at Lincoln College
[OCT. 2, 2000] Vanessa Watson of Hartsburg is this year's recipient of the Anna K. and Bernard E. Behrends Scholarship at Lincoln College.
---

[click here for top stories for the day from around the world]
---
---
Hear it here!
Friday, Oct. 6: Lincoln Railer football at SH-Griffin
Listen to the game over LDN via Media One Broadcasting.