posted daily OVER THE NOON HOUR (CDT)

New Holland's 125th anniversary celebration
---
City Council approves
lighting, rezoning
[OCT. 3, 2000] At its regular board meeting Monday evening, the Lincoln City Council approved putting in two streetlights at city expense at the two entrances to the Stonebridge subdivision and rezoning property at 500 Fifth St. Nine city firefighters were also honored at the meeting.
---
Part 2
Fall gardening projects
"Don't throw in the trowel yet"
[OCT. 3, 2000] Just because fall is fast approaching doesn't mean it's time to put away your garden tools. There are less hours of sunlight and temperatures are headed north, but there's still a lot of work that can be done in the garden.
---
This is when eight means 10
[OCT. 3, 2000] October is a misnomer. So are September, November and December, for that matter. For many of us, the problem is clearest in October because of related words we use. If you've met an octopus and counted the tentacles or if you've stopped lately to count the sides of one of those red signs shaped like an octagon, you have the same answer in both cases. However, if you number the months from January to October, you get a different result.
---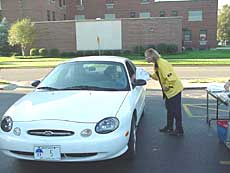 [The ALMH radiology department hosted an information and breakfast drive-through this morning from 7 to 9. Later they will be distributing literature to teachers. In addition, the Rural Health Partnership's mobile van will go out to surrounding communities, making 14 stops. The information packets are also available at the following hair salons: Arcade Hair Creations, Blades Hair and Nail Salon, Camel's Hair'Em, Fabulous Hairstyles and Towne House Beauty Shoppe; and at these Lincoln eateries: Vintage Fair and Lunch Express.]
---
Fourth graders experience interactive
history at Lincoln College Museum
[OCT. 3, 2000] History at the Lincoln College Museum was brought to life last Thursday for a small group of fourth graders from Northwest School in Lincoln.
---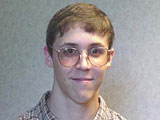 TEACHING & LEARNING
Hunter is awarded Humphrey Scholarship at Lincoln College
[OCT. 3, 2000] Brian J. Hunter of Lincoln is this year's recipient of the Robert R. Humphrey Scholarship at Lincoln College.
---
KidCare insurance help available Oct. 10 at LCHD
[OCT. 3, 2000] A representative of the Department of Human Services will be at the Logan County Health Department on Tuesday, Oct. 10, to assist clients with the application for KidCare. KidCare is a health insurance program for Illinois children 18 or younger and pregnant women. KidCare matches the insurance plan to the family's income and situation.
---


[click here for top stories for the day from around the world]
---
Recent K of C fund drive with Tootsie Roll distribution expects to meet goal
---
---
Hear it here!
Friday, Oct. 6: Lincoln Railer football at SH-Griffin
Listen to the game over LDN via Media One Broadcasting.