posted daily OVER THE NOON HOUR (CDT)

---
LDN expands coverage
You asked for it, you got it.
LDN strives to be the only news source you need!
[OCT. 9, 2000] In addition to giving you great coverage of local news and events, Lincoln Daily News is expanding coverage and bringing you news from around the country and around the world in most of our major news areas. Check out these headlines from the biggest and greatest news-gathering and reporting agencies from around the world:
---
Part 3
Living downtown
New trend fills apartments
on South Sangamon Street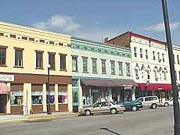 [OCT. 9, 2000] Years ago, living downtown meant "living above the store," a matter of economy and convenience for families just getting a start in business. Later, when "the store" prospered, the families would move to a home in a residential neighborhood. While living downtown was practical, it wasn't generally considered fashionable. Today it can provide economy and convenience or living quarters as elegant as any you will find in a strictly residential district. Larry and Bette Steffens like the idea of living downtown so well they will soon be leaving their large country home and moving to a 4,000-square-foot apartment renovated with their own hands.
---
LCHS lady golfers compete in regional
[OCT. 9, 2000] Lincoln Community High School lady golfers competed in the regional tournament in Pana on Friday, Oct. 6. The tournament was at the Oak Terrace Golf Course, par 72.
---
Notice to absentee voters
[OCT. 9, 2000] Registered voters expecting to be absent from the county on the Nov. 7 election day may vote in person at the Logan County Clerk's Office, second floor, Courthouse, Room 20, Lincoln, from now until Nov. 6.
---
Part 5
St. Louis has more to offer
By Penny Zimmerman-Wills
[OCT. 9, 2000] ST. LOUIS: Whether you want to try your luck at one of six riverboat casinos, shop for antiques or dance the night away, St. Louis has all this and more. It's hard to get bored in this city on the Mississippi River. Today's final posting in this St. Louis series features shopping.
---
Tami Kennett is ALMH Employee of Month
[OCT. 9, 2000] Tami Kennett, LPN (Medical/Surgical) was named the ALMH September Employee of the Month.
---
Lincolnland Community Concert Association lists performances for 2000-2001 season

---
91-year-old local man is excited about new schools
Central School teacher supports building new schools
---

[click here for top stories for the day from around the world]
---
Hear it here!
The Faks Machine: Mike Fak and Jim Ash host a community call-in show. Their show airs on Lincoln Daily News over the Media One link every Wednesday night beginning at 7 p.m.
Next Friday, Oct. 13 - Lincoln Railer football at Taylorville
Hosted by LDN. Audio link provided by Media One.
---