Lincoln Daily News.com
601 Keokuk Street
Lincoln, IL 62656

TEL: 217-732-7443
FAX: 217-732-9630

Lincoln Daily News publishes daily news about the Lincoln/Logan County area on the Internet at www.lincolndailynews.com. (We are not a print publication). All subscriptions are free!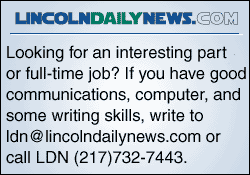 Our mission:
The mission of Lincoln Daily News is to tell the stories of Logan County in a contemporaneous manner, with lively writing and a predilection for simple truth fairly told. Lincoln Daily News seeks a relationship with the good people of Logan County that is honest, neighborly and never patronizing. Lincoln Daily News presents news within a full context that contributes to understanding. Lincoln Daily News is more interested in the marketplace of ideas than the competition of personalities. Without shrinking from the bold delivery of unvarnished fact, Lincoln Daily News operates from the premise that God's creatures deserve the presumption of right motive. Lincoln Daily News eschews malice and cynicism; it approaches every person with dignity and every subject with equanimity. In short, Lincoln Daily News informs, stimulates and entertains.
Content:
The articles published in Lincoln Daily News are the result of research and interviews. Any opinions expressed are those of the writers.
Corrections:
Please contact us by phone, fax, mail or e-mail with any information about mistakes, typos or erroneous information. If the error is in an item which is still in the paper, we will correct it online immediately. All corrections will be shown on the "Corrections" page.
Our services:
Lincoln Daily News provides daily news, sports, features and commentary on Lincoln, Logan County and the surrounding area.
To promote local businesses, we offer display advertisements at very reasonable rates, and links to business websites. Call (217) 732-7443 or e-mail ads@lincolndailynews.com.
"Happy ads" are a special feature to enable our readers to celebrate birthdays, graduations, anniversaries and other good news. Call us for details.
For employment information, contact Lincoln Daily News at their offices.


Our staff:
Managing editor: Jan Youngquist ldneditor@lincolndailynews.com
Copy editor and writer: Mary Krallmann
mkldn@lincolndailynews.com
Technology assistants: Tyler Havlin
thldn@lincolndailynews.com
Don Buckner
Partners, managers, writers [click here]
---
LCHS does excellent job on fall play
10-16-00
To the editor:
Congratulations to Mrs. Carolyn Schrieber and the LCHS Fine Arts Department for an outstanding job on the fall play, "I Never Saw Another Butterfly." The students did an excellent job of portraying the horrors of the Holocaust that children faced in the Terezin Jewish ghetto. Allison Leonard was superb as Raja Englanderova, a survivor of Terezin. Kyle Pepperell and Julie Wood also delivered memorable performances. We can be proud of the fine drama talent we have at LCHS.
Jan Schumacher
Lincoln
---
10-14-00
Dear Editor,
Regarding your article, "Council Still Seeking Leaf Disposal Solution". Yes, Chairman Shelton and Alderman Fuhrer did vote yes, but the two Aldermen that voted no were Patrick Madigan and Michael Montcalm, not Steve Mesner.
Just to keep things straight...
Debbie Mesner
---
Thanks from Healthy Communities Partnership
10-11-00
Dear Editor,
We would like to thank you for the great coverage on Family Fun Day. We can't say enough about the support you give to the Healthy Communities Partnership and its activities. Thank you again!
Sincerely,
Dayle Eldredge,
Director
---
Thanks from the Klockenga family
10-11-00
Dear Editor:
My name is Heidi Klockenga. I am one of David's four girls. I just wanted to take a second of your time to thank you for doing the write up on the neighbors helping my Dad. It is nice since we have family scattered from Florida to Colorado that we can just send them a quick email to show them that it is really done. The crops were a worry on the whole families mind since the day we found out that he would be having surgery. If by chance we missed anyone's name to give to LDN for their help. Thank you! To everyone that helped you will never know what you all mean to our family. I know that thank you is not enough! However, how do you thank so many people that were so willing to give up their time to help my dad? I thank you, my father and mother thank you, my grandma (Virgina Klockenga) thanks you, and my sisters and their families thank you!
Thanks again.
Heidi Klockenga
[LDN article: They came in droves...for a friend]
---
91-year-old local man is excited about new schools
10-9-00
Dear Editor,
Being a life-long resident of Lincoln, I have witnessed many changes during my 91 years. Of all the improvements Lincoln has undergone, few seem quite as exciting to me as the building of two new schools. I cannot think of a better way for my generation to ensure a bright educational future for our grandchildren and great-grandchildren. This exciting building project will provide all of us with a feeling of accomplishment and greater pride in our community.
I can still remember carrying supplies from the present Central School to the old Madison School. I remember how good Central smelled and how proud the students were to be going to a brand new school. I attended Central through eighth grade and then went to high school and graduated from the building that is now the Lincoln Junior High. However, that was a long time ago, and both buildings have served their purpose. It is time to give today's children their own brand new schools. I hope to see the new Central School built so that I may boast that I was in all three Central School buildings. I plan on visiting the new Central and Lincoln Junior High as a proud grandfather, for I am proud that I have vision to see into the future and not dwell on the past.
I urge you to be a part of the future as this 91-year-old plans to be. Please vote YES for the upcoming District 27 referendum to build new schools for our children, grandchildren, and great grandchildren.
Paul Rankin
Lincoln
---
Central School teacher supports building new schools
10-9-00
Dear Editor,
I have had the privilege of teaching at Central School for the past 23 years. I have seen many ups and downs in the field of education, but I was never so excited as when I learned that the State of Illinois would provide our city with funding for new schools. Though we are being told by some that money is always available, I cannot remember having a windfall like this. Many around the state must have the same feelings as I do, as other school boards have applied for state grant money to replace 140 old schools. The State of Illinois has placed our district 33rd on the list, an indication of the decayed state of Central School and Lincoln Junior High.
We now have a group of people from the Lincoln community that claim to know much more about education than our teachers and school board members. Those of us who are in the buildings every day have been criticized, ridiculed, and called liars because we have the "audacity" to want new schools for our children and community. I have to wonder, what is wrong with wanting something new? The S.O.S. organization brought to Lincoln an "expert from Chicago" to tell us how to educate our children during remodeling, what to do with our schools, and how to spend our tax dollars. Excuse me, but I am offended that the S.O.S. committee does not think we "hicks" are smart enough to make our own decisions. This reminds me of the old adage that an expert is anyone from more than an hour away. Who cares what Chicago does? This is Lincoln and we are able to make our own decisions.
We don't need to look all the way to Chicago to find an expert. Our local school officials, educators, and staff are experts. We are in the schools every day. We deal with the problems of crumbling schools every day. We have the awesome job of educating our children every day. We have no personal agenda. We will not receive any personal gain. We will not move on to another pet project after the election. We will only have the pleasure of educating our children in new, clean, quiet, and safe schools.
Susan Rohrer
Lincoln
---
Please send your letters by e-mail to ldneditor@lincolndailynews.com or by U.S. postal mail to:
Letters to the Editor
Lincoln Daily News
601 Keokuk St.
Lincoln, IL 62656
Letters must include the writer's name, telephone number, mailing address and/or e-mail address (we will not publish address or phone number information). Lincoln Daily News reserves the right to edit letters to reduce their size or to correct obvious errors. Lincoln Daily News reserves the right to reject any letter for any reason. Lincoln Daily News will publish as many acceptable letters as space allows.