[OCT. 11, 2000] "Ereth's Birthday," Avi; illustrated by Brian Floca, HarperCollins Publishers, 2000, 180 pages. Ages 8-12.
Erethizan Dorsatum, or Ereth, is a cantankerous porcupine who has "a flat face with a blunt black nose and fierce, grizzled whiskers" and lives in Dimwood Forest near his best friend Poppy, a deer mouse.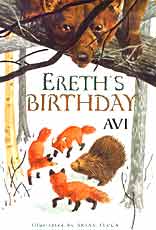 When Ereth woke up and rattled his untidy quills, he remembered it was his birthday, and he hoped Poppy had a special celebration planned for the day. Ereth went in search of Poppy and could only find her 11 very active children. It was obvious to Ereth that no one cared about his birthday, and he would have to go in search of his own special birthday treat — salt. From this moment on, Ereth's life and his story become very interesting!
The salt is located in a fur hunter's cabin. On his way to the cabin Ereth finds Leaper the fox injured in one of the hunters' traps. Leaper begs Ereth to take care of her three young kits if she doesn't make it back home. Ereth is no mood to take responsibility for young children, and when Ereth gets upset or disturbed he has an unusual way of expressing himself. "Jellied walrus warts," "chipmunk tail squeezers," "lazy lizard lips," he sputtered to himself as he promised to care for the babies and started on his way to look for their den.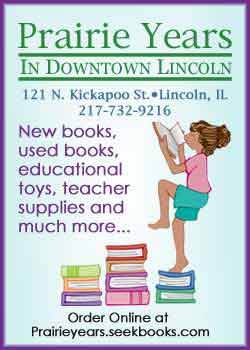 This is a wonderful story of the bond that forms between a grouchy porcupine and the fun-loving foxes. The foxes figure out a way to set off the hunters' traps without getting hurt, and Ereth helps the kits find food which Leaper had stored in various dens in the forest. A hungry fisher, Marty, is stalking Ereth throughout the book and adds the element of danger to the plot.
Floca's black-and-white sketches throughout add a bit of charm to the story that grabs your attention from the very beginning. Ereth will never forget this birthday and neither will the reader.
More books by Avi include other tales from Dimwood Forest, mystery, fantasy and historical fiction.
[Pat Schlough, Lincoln Public Library]

[OCT. 11, 2000] "Postcards to Father Abraham," Catherine Lewis, Atheneum Books, 2000, 288 pages. Ages 12 and up.
Meghan Hartman is 16, and running is her life, or it had been in the past. Cancer and the loss of part of her right leg have destroyed all hope of ever becoming a great runner.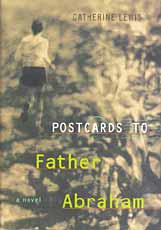 Meghan's first-person story is set in an Illinois hospital in 1972 as she shares all of her anger and frustration with the reader. We also learn about her brother, who is an emotionally shattered Vietnam veteran; her younger sister; her father; and her school friends.
As a school project, Meghan is studying the life of Abraham Lincoln and decides he is the only person to whom she can express her true feelings. She expresses these feelings throughout the book by writing "postcards" to Mr. Lincoln. She knows the pain and circumstances in his life and feels he will understand her, and by writing she can gain strength to overcome her own pain and anger.
Flashbacks of school experiences, her illness and therapy are also shared by Meghan as she tells her story.
The title is what first drew me to this book, but as read I was drawn into Meghan's life and realized this was a young adult full of humor and determination who would definitely make a difference in her world.
This is Catherine Lewis' first young adult novel, but I'm looking forward to the next one.
[Pat Schlough, Lincoln Public Library]