Wooden bat team wins
doubleheader with Rochester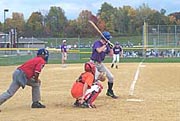 [OCT. 18, 2000] Lincoln's wooden bat baseball team moved its record to an impressive 9-1 over the weekend in East Peoria, defeating Rochester 4-3 and 4-1. Lincoln's offense created only four hits in game one and three hits in game two, but it scored when necessary. Pitching was once again a critical factor in the victories. Justin Dedman, Josh McDaniel and Jamison Sheley held Rochester to only two hits in the opener; while Chris Phillips, Ryan Williams and Blake Schoonover allowed only one hit apiece in the second game.
Soccer: Lincoln College vs. Lincoln Land
[OCT. 18, 2000] Lincoln College's men's soccer team hosted Lincoln Land yesterday afternoon. The final score was 1-0 for Lincoln Land.
Swimming: Olympia vs. Peoria Woodruff
[OCT. 18, 2000] Yesterday afternoon in Peoria, Olympia and Peoria Woodruff competed in a swim meet won by Olympia, 106-68. Click below for individual and relay winners.
Volleyball: LCHS vs. Springfield Southeast
[OCT. 18, 2000] Lincoln Community High School's ladies volleyball team defeated Springfield Southeast in Springfield yesterday, 15-10 and 15-5.
Volleyball: Hartsburg-Emden vs. Glasford
[OCT. 18, 2000] Hartsburg-Emden ladies traveled to Glasford yesterday to play volleyball with Illini Bluffs' high school team. Hartsburg defeated Illini Bluffs 15-7 and 15-3.
Volleyball: Mount Pulaski vs. Illini Central
[OCT. 18, 2000] Mount Pulaski and Illini Central's ladies volleyball teams competed yesterday in Mason City. Mount Pulaski won 12-15, 15-2, and 15-4.
College volleyball: LC vs. LCC
[OCT. 18, 2000] Lincoln College and Lincoln Christian College's women's volleyball teams met at LCC yesterday afternoon. Lincoln Christian College won, 15-4, 15-8 and 15-3.