posted daily OVER THE NOON HOUR (CDT)

Victory!
By Rick Hobler
[OCT. 21, 2000] Tears fell at Handlin Field last night. Tears of joys, as the Railers came out with a 45-14 senior Night win over East Peoria. After playing their hearts out all year, without a victory, the Railers dominated the entire game in every way. The game began last Monday in practice when the seniors made up their minds to go out as winners…whatever it took. It was clear from looking in the eyes of the seniors, even before the game began, that they had no intention of losing this final game of their high school careers. They had come to play and win. And with the help of the entire Railer squad, they did both.
---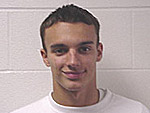 Memorable times in football
[OCT. 21, 2000] Seniors finishing their last year with the Lincoln Community High School football program answer this week's question in The Hallway Buzz.
---
Lincoln Public Library provides high-tech access in Carnegie comfort
By Curtis Schleich and Sam Redding
[OCT. 21, 2000] You may picture yourself reclining in a soft leather chair beneath high oak-trimmed walls, with sunlight streaming through classically-arched windows, reading Tennyson. That impression of reader's paradise can still be realized at Lincoln Public Library, a beautifully-maintained Carnegie building facing ancient maples in Latham Park.
---
No one is anonymous in a small town:
That's good and bad
Keeping friends in an election year
By Sam Redding
[OCT. 21, 2000] Living in a small town makes anonymity very difficult. Sometimes that's good: Folks who barely know us know enough about us to offer support when our family faces illness, death or hard times. People who recognize our name shout "atta boys" when our kid hits a home run, our spouse is elected president of a service organization, or we win the lottery. Especially if we win the lottery. That's the good news.
---
---

Court reports
[OCT. 21, 2000] The Law and Courts page includes a new set of weekly court reports, marriage licenses and dissolutions. The Lincoln Daily News does not list the names of the individuals unless convicted and age 18 or older.
---
---
October is Energy Awareness Month
[OCT. 21, 2000] As you know, winter is just around the corner. With gas prices going up, the colder months will surely have a bitter bite. Lincoln Junior Woman's Club would like to help keep your costs down by giving you a few energy saving tips. Oct. 15 through 21 is Lincoln Junior Woman's Club Week. Each day, an energy awareness tip has been posted. Today's tip is the conclusion of the series.
---
1850s Open House at
Mount Pulaski Courthouse
[OCT. 21, 2000] Music by candlelight and period costumes will bring the past to life at the Mount Pulaski Courthouse at the annual 1850s Open House on Saturday. The courthouse is one of only a few original sites remaining where Abraham Lincoln practiced law.
---
ORGANIZATIONS
November blood drives announced
[OCT. 21, 2000] Logan County Red Cross has announced the November blood drives
---


[click here for top stories for the day from around the world]
---
World/national news coverage
---
Hear it here!
The Faks Machine: Mike Fak and Jim Ash host a community call-in show. Their show airs on Lincoln Daily News over the Media One link every Wednesday night beginning at 7 p.m.
---
REMINDER: GOOD NEIGHBORS
As an active member of the community, Lincoln Daily News will publish notices of BENEFITS for people with special needs free of charge in our Good Neighbors section. Please send details of upcoming BENEFITS to ldneditor@lincolndailynews.com.
---